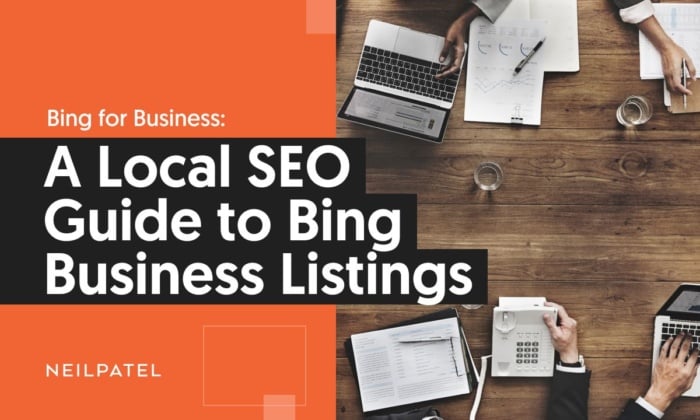 Poor Bing.
Not only is it the forgotten search engine, but it is also the host of the oft-forgotten local SEO alternative: Bing Places for Business. And just like its cousin Google Business Profile, your Bing Business Listing gives you the chance to boost the local exposure of your company.
No one talks much about Bing Places, though. And that's a shame because it has a lot to offer local businesses.
In this article, I'm going to change that. I'll take you through a deep dive into what Bing Business Listings is, how you can set up your profile, and how you can use the platform to improve your local SEO.
So if you want to get listed on Bing, let's go!
What Is Bing Places for Business?
Bing Places for Business is Microsoft's version of Google Business Profile. It gives businesses the chance to showcase their physical locations across Bing.com and Bing Maps.
Just like on Google, a verified Bing Business Listing account lets you detail a fair chunk of information about your business, including its location, contact details, hours of operation, and website.
Here's what a typical business listing on Bing looks like:
Business listings on Bing were originally launched in 2009. Since then, Microsoft has evolved the service considerably and added a range of additional features including photos and videos.
Benefits of Using Bing Places for Local SEO
If you're serious about optimizing your business for local SEO, there's no excuse not to use Bing Places. It offers some pretty eye-catching benefits.
First, Bing is still the number two search engine in the world (8.23 percent market share compared to Google's 85.52 percent). Just because you use Google Search or Google Maps doesn't mean everyone does. Bing is also natively integrated into Microsoft Edge browsers, which means many people use it without realizing it. That's to say nothing of how search share might change in the future. Given the extent to which Bing has incorporated AI into its results, I wouldn't be surprised if it captured more of the market in the future.
Second, it's free to use Bing Places. There's literally no cost to you creating a Bing business listing apart from your time. And, as you'll see below, it's pretty easy to set up.
That's another benefit of Bing Places. Even if you aren't the most technical business owner in the world, you should find it pretty straightforward to create and manage your account.
Finally, Bing Places is another valuable data source for your business. It has an easy-to-navigate analytics dashboard that lets you see the number of impressions, clicks, and reviews your business gets.
How to Create a Bing For Business Listing
Want to get your Bing Places for Business account set up? Follow my steps below:
Log in at bingplaces.com
Getting started with Bing Places is easy. Simply visit Bing Places for Business and click on New User.
You'll have the chance to import your business from Google My Business or create a new account on Bing Places for Business from scratch.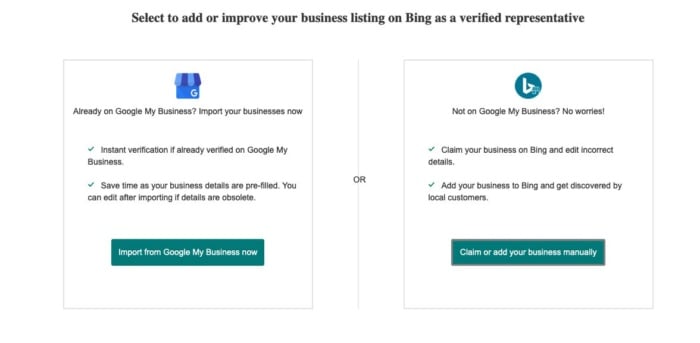 The easiest way to create a listing is to import data from your Google My Business account. All you need to do is click on the button and agree to share your data from your Google account.
From now on, however, I'll assume you've clicked on "Claim or add your business manually."
Create or Claim Your Business Listing
Creating or claiming your Bing for Business listing is pretty easy. It's just a case of following the step-by-step instructions.
First, choose your business type and location. Then search for your business name and location or enter your business phone number.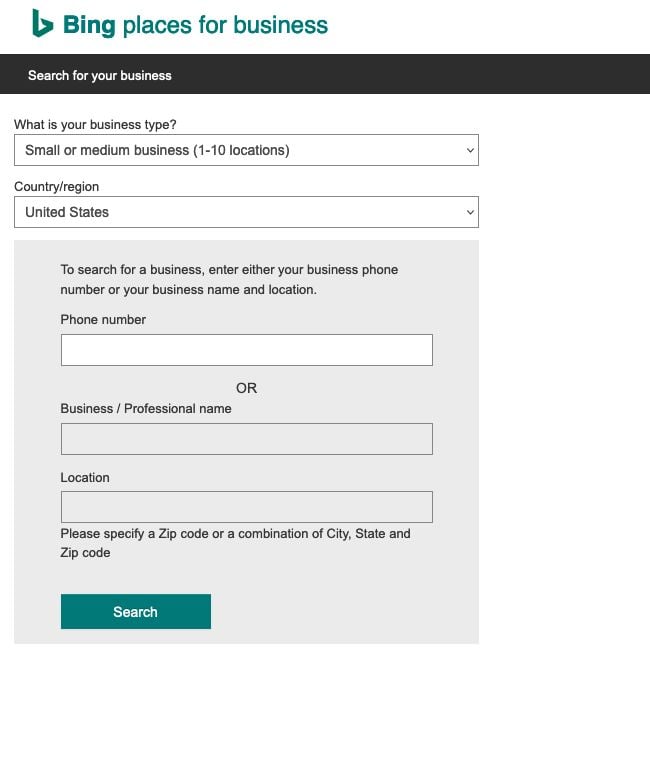 In most cases, your business will already be listed and you can simply claim it by clicking on the "Claim Business" button. If your business isn't listed, click on "My business is not listed in the search results" and then choose to create a new business or modify your search to try to find your business again.
If you click on "Claim Business" you'll be directed to sign in and you can edit Bing business listing immediately.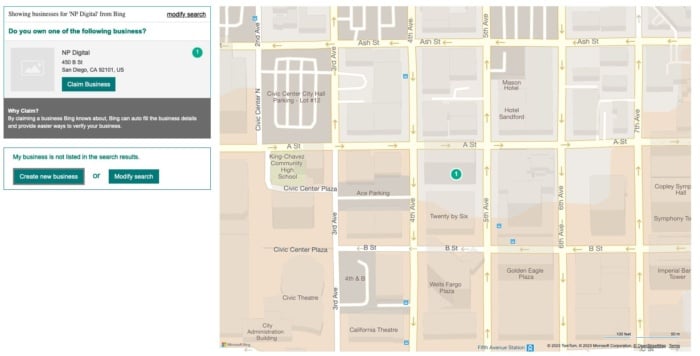 If not, you'll be able to create your Bing Business profile from scratch.
Add Business Details or Confirm Your NAP Is Accurate
This next bit is easy if your business is already listed. You simply need to confirm all of the information Bing has about your business is accurate and edit it if not.
It's a little more time-consuming if you need to create your business from scratch, but it's still easy to do. Just follow Bing's process to complete your profile.
Start by providing your profile by providing your:
Business name
Address
Phone number
Website
Make sure to double-check the pin location after you've added your address. If it's not 100% accurate you can move it yourself. Given that the goal of Bing Places for Business is to help customers find your store or office's location, it's essential to make sure this is as accurate as possible.
Next, choose your "Segment of Business." This is your business category. Example options include:
Banking & Finance
Business-to-Business
Healthcare
Religion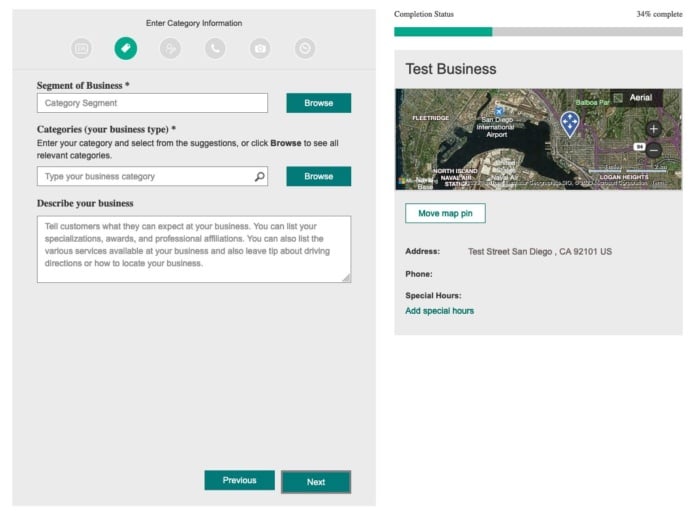 Next, choose one or more relevant categories. You can think of these as keywords. For example, if I type marketing, I get the following list of options: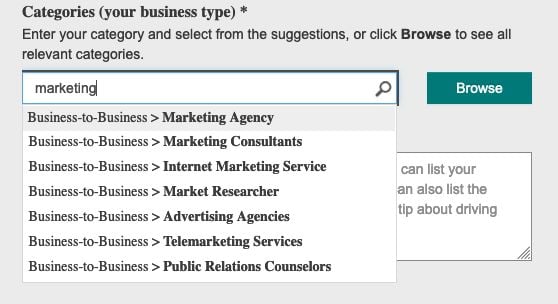 Provide a detailed description of your business. Include a list of the products and services you offer, making sure to include any relevant keywords.
You can also choose to add your business hours of operation. I consider this mandatory if you want to drive people to your brick-and-mortar store. So make sure you include accurate opening and closing times and note which days you're closed.
Note: You don't need to give every piece of information if you don't want to. If your business location doubles as your home, you may not wish to provide a telephone number, for instance. Bing only requires you to provide the information it denotes with an asterisk.
Verify Your Bing Business Listing
Once you've completed your business profile, Bing will require you to verify your listing. By verifying your business, you'll be able to make edits, keep your listing up-to-date, and track its performance.
At the time of writing, you can only verify your business by post. This involves Bing sending a verification PIN to the address you've provided. Once you receive the PIN, you can simply log into your account and enter the PIN to verify your business.
Review Citations and Directory Listings
Your business name, address, and phone number (otherwise known as NAP) is an important ranking factor on both Bing and Google. It's not enough for this information to be correct on each local listing platform, however. It needs to be correct on every directory and website your business is listed on—these are called citations. Think of them like backlinks; the more citations your business has, the better it will rank in local results.
Fortunately, you don't need to do this manually. You can use a data aggregator like BrightLocal or Semrush Local to streamline the task of reviewing and building citations. You can use both tools for free, but paying for premium access will make the task quicker and easier.
You should know that creating an accurate Bing Business account will go some way to ensuring correct citations for your business. Two of the industry's biggest aggregators, Localeze and Data Axle, use Bing as their main source of information.
Optimize for Local SEO
Creating a Bing Business Listing is just the start of optimizing your local SEO presence on Bing. Here are top five ways to further increase your presence.
1. Incorporate Relevant Keywords into Business Listing Description
I've said this already but it bears repeating: make sure you include relevant keywords into your business' description on Bing Places.
The easiest way to do this is to keep your description as concise as possible. Don't try to sell your business, simply describe exactly what you do. Explain what you do in a single line, then list your services. In doing so, you'll naturally incorporate a bunch of keywords.
2. Create Localized Content on Your Website
You'll want to bolster your Bing Business Listing with localized content on your business website. Start by making sure all your relevant service pages are optimized for local terms using geo-specific keywords.
If you are an accountant in Houston, for instance. You'd want to title your existing service pages with your location: "Accountant in Houston, TX" or "Bookkeeping in Houston, TX," for example.
You should also include location-specific keywords in each page's:
URL
Heading tags
Body content
Meta description
But don't stop there. Use your blog to create a stream of localized content about your industry and your surrounding area. You can write about local events, provide business updates, or use it to host case studies that show how you have helped residents and businesses in your town or city.
3. Encourage and Respond to Customer Reviews
Customer reviews are one of the most important ranking factors alongside citations. The more positive reviews you have, the higher your business should rank. They will also go some way to building trust with potential customers and improving your business' reputation.
Encourage all of your customers to leave a review, especially if they are delighted with your service. You could even set up an automated email campaign that sends a review request.
Make sure to respond to every review, too. You can manage and respond to reviews using the Bing Places for Business dashboard.
4. Use High-Quality Visuals
Consider this hypothetical: if you're choosing between two businesses—one with loads of images on their Bing Places account and the other with a lone picture of their storefront—which would you choose? The one with all the pictures, right?
That's why it's so important to add as many high-quality images and videos to your profile as possible. They are a great way to showcase your products or services while also giving prospective customers reassurance that you can deliver.
There's a couple of things you should note in particular. One is that the first image you upload to Bing will be the main image for your company. I recommend you use your logo or another image that makes your brand recognizable.
The second is that you should add metadata to every picture and video you upload. This provides added context for the visually impaired and also improves your SEO in general.
5. Add Local Business Schema
Local business schema is a form of structured data markup that you can add to your website to make it easier for search engines like Bing and Google to identify what type of business you are and what products or services you sell.
Start by choosing the best schema local business category for your business. There are plenty to choose from on the Local Business section of the Schema.org website.
You'll then want to create an entry for all of the relevant local business schema properties. These include:
Your name
Address
Phone number
Opening hours
Description
Logo
Geolocation
Creating accurate local business schema can be confusing without the help of a developer. That's why I recommend you use Google's Structured Data Markup Helper to automate the process of creating and verifying your business schema.
Leveraging Bing Local Insights and Analytics
Just like Google My Business, Bing Places provides a pretty comprehensive analytics platform that helps business owners to monitor their listing's performance.
You can track the following metrics:
You'll also be able to see how users are finding your business, so you can see which services and locations you are nailing and which need more focus.
By regularly reviewing your Bing Local listing analytics, you'll be able to keep your business up to date and ensure you appear for as many local searches as possible.
Bing Places for Business Dashboard
You can find all of the information I've discussed above in the Bing Places Business Dashboard. It's also the place where you can manage and update all of your listing's information.
The dashboard is split into a series of panels. On the far left, is an overview of your profile. Here, you can update the information, add special opening hours, offer advanced information, and create offers and discounts. This is also where you can mark your business closed or delete your account.
In the middle panel, Bing presents you with a series of actions you can take. This includes:
Verifying your account (if you haven't already)
Showcasing your features and facilities
Promoting your business
Connecting to Google My Business account
Downloading the Bing Places app to manage your account on the go
Finally, you have Bing Places Insights, which shows you traffic data over three time periods (the last four, eight, and 12 weeks). You can also compare your traffic against similar businesses.
Examples of Bing Business Listings Done Right
A quick search on Bing reveals plenty of local businesses who are already making the most of their Bing Business listings. Here are three great examples:
Alba Dry Cleaners & Tailoring from New York, NY have a comprehensive listing, complete with great images, dozens of reviews, and accurate contact information. Bonus points for highlighting wheelchair access.
Stumptown Coffee from Portland also boasts a packed listing. Their main image is incredibly enticing, and they do a good job including keywords as well as other locations in their description. Scroll further down the page and you'll also see a full list of the store's amenities.
Salon Viejo Hair Studio in LA is my final example. Like the two businesses above, they have a well built out profile, complete with compelling pictures and reviews. The company's short description does an excellent job of explaining exactly what they do while getting crucial keywords in there.
Tips for Getting the Most Out of Bing Places for Business
Once you've got your account fully set up and verified, you'll have gone a long way to making the most of Bing for Business. But there are still a few things you can do to extract even more value:
Keep an eye out for a Local SEO update. Like Google, Bing regularly updated its algorithm. By keeping on which ranking factors are most important when it comes to local search, you can make sure your business stays on top.
Monitor your competitors. It is just as important to keep an eye on your competitors. Try to have more (and better) reviews, more images and more descriptive profiles. If they run a new strategy that appears to be working. Make sure you copy it.
Look into Bing advertising. Bing Places is a great way to get your business in search results for free. But if you really want to increase your company's exposure, look into Bing's PPC offering—you may find it cheaper than Google.
Add deals or discounts. You can use Bing for Business to create and promote discounts and deals for free. Simply log in and click the relevant panel on your dashboard to get started.
Bing Business Listing FAQs
How to claim Bing Business Listing
Claiming a Bing Business listing is simple. Just visit the Bing Places for Business website and sign in with your Microsoft account. Then search for your business details and claim your business if it shows up. 
How to create a Bing Business Listing
If your business doesn't show up in Bing Places for Business results, you'll need to create a new listing from scratch. Follow the steps on the Bing Places for Business website, adding your business' name, address, phone number, website, and other details like opening hours. You'll need to verify the ownership of your business before Bing makes it live. 
How to update a Bing Business Listing
Updating your Bing Business Listing is easy. Sign in to the Bing Places for Business website and find your business on your dashboard. Click on the listing and choose "Edit" to modify the information.
Conclusion
Bing Places for Business may be the forgotten cousin of Google My Business, but it is still a powerful way to increase your business' local presence and improve your local SEO strategy.
Creating an account is just the start, however. Make sure you follow my advice to maximize the impact of your Bing Business Listing, improve your Bing SEO, and drive as much traffic to your brick-and-mortar store as possible.
What are you doing to boost your Bing profile?