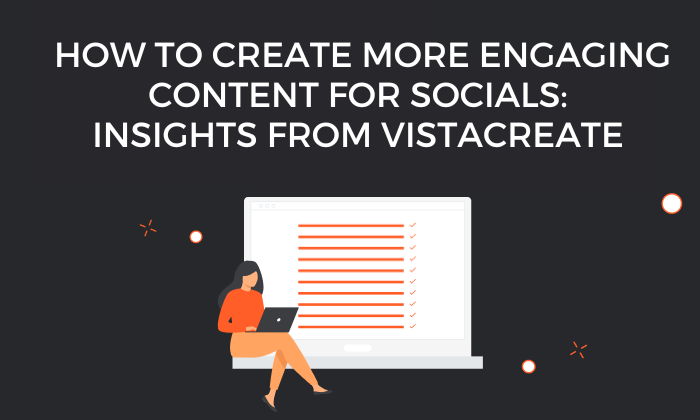 In today's digital age, social media has become an integral part of our daily lives. It has revolutionized the way we connect with others and consume content.
Whether you are a social media marketer or a business owner, creating engaging content for your social media platforms is crucial to your success.
But with so much content out there, how do you make yours stand out?
In this article, I've partnered with the VistaCreate team to provide proven strategies that you can use to create more engaging content for your social media platforms. From improving your visuals to using analytics to gauge user behavior, we'll cover all the essential elements that can help you create content that resonates with your audience and boosts your social media engagement.
So, whether you're just starting out or looking to take your social media game to the next level, read on to discover our top tips for creating engaging content for socials.
Tips On Social Media Content Creation In 2023<H2>
First and foremost, you need a strong strategy to do well with your social media accounts.
Not many will tell you about the fine details that go into a strategy. It'll always come down to a fundamental question of — What type of content are you creating? How are you creating it, do you trust that it'll bring the right results, or are you leading your social media for the sake of doing so?
It's easy to get overwhelmed by the details, but they all contribute to forming a bigger picture – your social media strategy.
Here are some tips to help you take care of your visuals for socials and do it in a way that wavers your nagging questions about what you should be posting.
Improve Visuals To Boost Social Media Engagement
It goes without saying that all the visual content you share on social media needs to be high-quality. VistaCreate covers those needs with its extensive library of creative assets. But there's more to effective social media visuals than high resolution.
Let's look at the best practices for social media design.
Brand Your Visuals By Adding Your Brand Colors, Fonts, and Logo
According to data from Pinterest, pins with subtle branding tend to perform better than those without. The same applies to other social media platforms.
To maintain a cohesive brand online and develop a recognizable social media aesthetic, you need to ensure you equip all your visuals with your branding elements — your signature colors, fonts, and (sometimes) your logo.
You can streamline this process with dedicated tools. For example, VistaCreate's Brand Kits feature allows you to upload your brand palette, fonts, and logo to the editor, and add them to your designs in a couple of clicks. This allows you to quickly apply your branded elements to any designs you create in the editor.
Have you noticed how we said you should only include your logo sometimes. But why? Because including your logo in every visual you share on social media might not be appropriate. At the end of the day, you don't want to shift the focus away from the actual content.
It's important to optimize your branding elements so that they don't clash with the rest of the artboard. That includes resizing or grayscaling your logo, reducing your brand color palette, or choosing only one font combination.
Doing so consistently will train your followers to identify your publications from a mile away, raising brand awareness.
(Source)
(Source)
(Source)
To make it even easier for your followers to spot the content they love on their feeds, rubricate your publications and color-code them.
Design several templates for different rubrics and stick to using them whenever you share anything with your audience.
Choose The Right Colors For Your Social Media Posts
While sticking to your brand color palette is important, you need to also account for the specific colors of the social media platform you're sharing to. You don't want your content to look too out of place because its colors don't work well with the platform's colors.
Another thing you need to consider when choosing a color palette for your social media posts: what colors perform well on different platforms. For example…
The best colors to use on Facebook are bright colors like yellow, purple, red, and orange.
The best colors to use on Instagram are shades of blue, pink, and yellow.
The best colors to use on Pinterest are red, purple, and pink.
Finally, you need to understand the connotations of different colors. Color psychology is always going to be relevant when making color choices for your designs, as the color you choose for your publication can affect its performance.
Add Just The Right Amount of Text To Your Visuals
Social media platforms are quite clever. In fact, they're very, very clever. Advanced algorithms keep tabs on user performance and know exactly how people interact with your content.
The content that catches the eyes of social media users gets rewarded — the platform shows it to even more people, making the publication viral.
So, if you want to boost your social media engagement, spice up your visuals with elements that increase interaction time. One of such elements is text.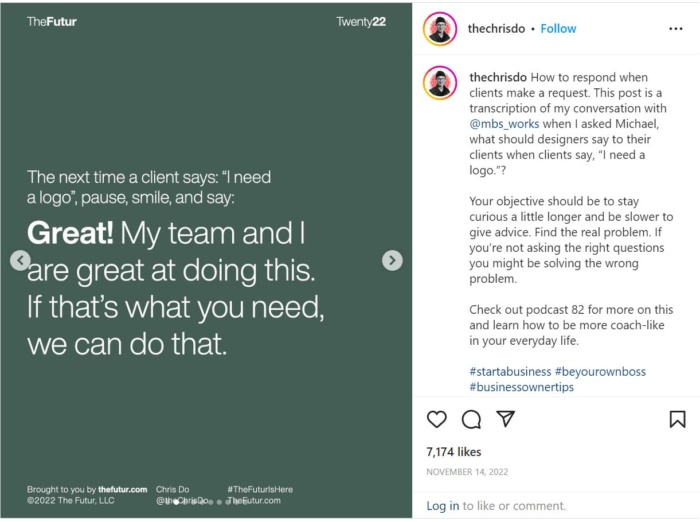 At the same time, however, don't overdo it. A huge wall of text in a visual can be intimidating. Instead of stopping to read through it all, people might just skip it.
Another design don't-do is centering text — with every new line of text starting in a random place, it can be a real challenge to read through the publication.
Since we already touched on the subject of positioning elements, let's move on to the next best practice.
Avoid Blind Spots
Every element of your social media design needs to be placed strategically and account for the specific requirements of different social media platforms.
When creating visuals for social media, make sure to avoid placing text, animations, and other significant elements in blind spots — areas where the social media platform's UI elements can overlap with your design.
Follow Social Media Design Trends
There are several reasons why you should keep up with the latest social media design trends and incorporate them into your social media visuals:
They help position your brand as a cutting-edge, current brand.
They make your social media publications more saveable and shareable.
They help you get more eyes on your content and increase your brand awareness as marketing and design media feature it in their publications.
Here are some of the hottest social media design trends in 2023…
Mixed dimensions. In 2023, combining 2D images with 3D images is in! Blur the line between the real world and the digital realm by adding doodles and scribbles to photos, mixing photos and illustrations, etc.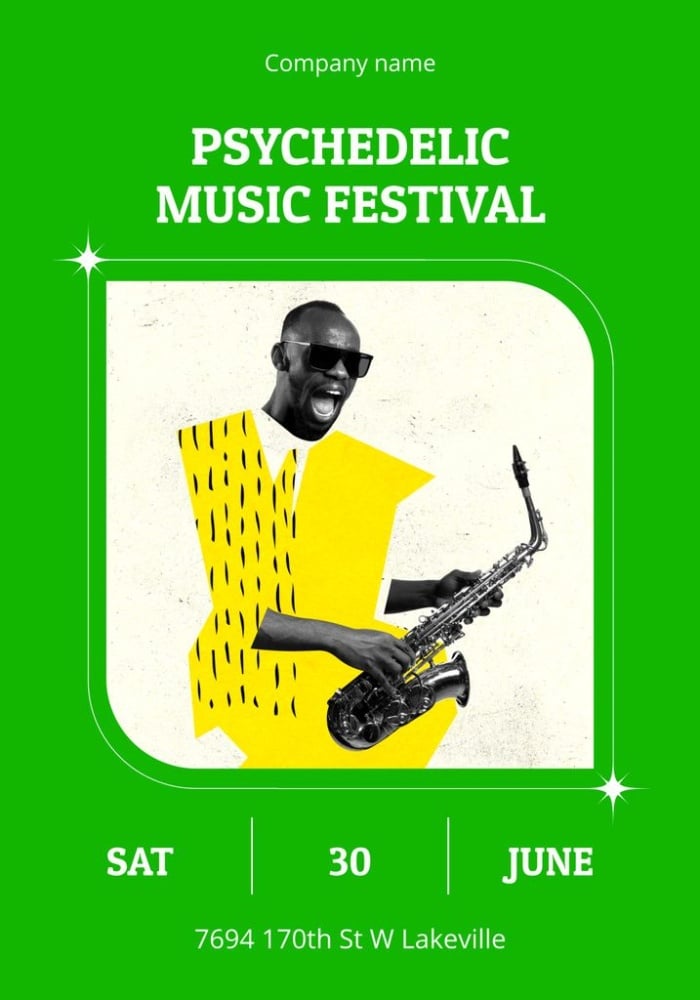 Use this free VistaCreate template
Use this free VistaCreate template
Animated elements. The psychology of humans is attracted to motion. Whenever we notice something move, we stop to take a closer look.
So, if you want your social media posts to capture your audience's attention, make sure you animate them. VistaCreate offers a wide range of free animated objects and animated design templates.
Use this free VistaCreate template
Retro line art. Brands with a more relaxed, humorous vibe will benefit greatly from this year's retro line art design trend. It manifests itself in cartoonish imagery, uber-bright colors, oval borders, and inflated fonts.
Use this free VistaCreate template
Use this free VistaCreate template
Punk revival. The rule is rules are meant to be broken, and design rules are no exception. In 2023, people will have a soft spot for anarchy and chaos in visuals. Daring imagery, collages, handwritten fonts, scribbles, clashing colors, and other elements of anti-design are predicted to be on the rise! The more, the merrier.
(Source)
Use this free VistaCreate template
Use this free VistaCreate template
Risoprint. In 2023, designers will seek to replicate the popular Japanese printing technique from the end of the last century. Prominent elements of the trend are grainy textures, simple minimalistic shapes, ink bleeding effects, and contrasting colors.
(Source)
Use this free VistaCreate template
Acid design. Inflated bubble fonts, weird shapes, chrome 3D objects, and lots of metallic.
(Source)
Use this free VistaCreate template
But don't get carried away with solely relying on trends. The last thing you want to do is blindly hop on every trend that comes your way.
Doing so can kill your social media profile's individuality and make your brand unrecognizable.
Besides, when trends get too big, people tend to get jaded by them. The same visual that brought you to social media fame (placed you on the Instagram Explore Page or TikTok For You Page) can lead to your downfall when people get fed up with repeatedly seeing the same trend.
Finally, the lifespan of trends in the modern digital realm is incredibly short. What's in today might easily become last-season and bare cringy a month or even a week from now.
So, think twice before you incorporate design trends into your social media visuals. The safest bet would be to only go for those that resonate with your brand and aren't too popular.
Know Your Social Media Platforms (and Their Audiences)
Understanding the peculiarities of different social media platforms and the formats that perform best on each of them is crucial when creating engaging content for your socials.
First of all, you need to remember that each social media platform has a unique audience with its preferences, behavior, and demographic characteristics.
For instance, Instagram is widely popular among young adults and teenagers, while LinkedIn is more favored by professionals and entrepreneurs. If you want your social media content to have the desired effect, you need to adjust it to the audience that will see it.
Besides, in the same way that all brands have different ideal ranges for good engagement, the best-performing content formats will also vary by platform. VistaCreate notes these key examples:
Why is this important? Each platform has its unique layout and content format, and what works on one platform may not work on another. You need to ensure your content is the type of content people are already engaging with.
By creating platform-specific content, you can establish your brand's authenticity and create a stronger connection with your audience. This is because when your content is tailored to a particular platform, your audience can relate to it better, resulting in increased engagement, brand loyalty, and trust.
Remember the Fundamentals of Good Copywriting
When it comes to crafting engaging social media content, it's not only about the quality of the visuals, but also about the message you share along with them.
If you want to get more eyes on your content, establish a strong brand on social media, and boost your engagement levels, you need to balance professional-looking visuals with exciting, on-brand, and valuable copy.
Here are some of the best social media copywriting practices that will help you craft a successful post on social media.
Keep Things Short and Sweet
As a rule of thumb, social media copy tends to be on the shorter side. There are a few reasons for that…
According to a recent study by Microsoft Corp, the average attention span of an adult Internet user is about 8.25 seconds and is steadily declining. In fact, it went down by 4 seconds since 2000. If you want your social media copy to be read, you need to be as concise as possible.
Most social media users access platforms from their mobile devices. Short copy that is easy to read on a small screen can improve user experience and increase engagement.
Social media platforms have character limits for captions, titles, and descriptions. By keeping your copy short, you ensure that your message fits within the allowed space and doesn't get truncated or cut off.
Speaking of social media character limits… You need to remember that there are two important counts — the overall number of characters a social media caption allows, and the number of characters it shows before hiding the rest of the copy under the "More" button.
When writing copy, you need to keep these things in mind and structure text accordingly:
Twitter: The first 140 characters of a tweet are visible, but users can click to expand the full 280 characters.
Facebook: The exact number of characters shown before the "see more" button appears on Facebook can vary based on the device and the length of the content. However, in general, Facebook shows about 200-300 characters before the "see more" button appears.
Instagram: Instagram shows the first 125 characters of a caption, but users can click to expand the full caption up to the 2,200 character limit.
LinkedIn: LinkedIn shows the first 140 characters of a post, but users can click to expand the full 700 characters.
TikTok: TikTok shows the first 60 characters of a caption, and users can click to expand up to the 100 character limit.
That being said, to encourage your audience to press on the "see more" button and read the full caption, you should…
Always Start With a Hook
A hook is a short, attention-grabbing statement that entices people to read more. It could be…
A bold statement
A question
A surprising fact
A teaser for what's to come, etc.
Source: @olaplex on Instagram
The key is to create curiosity or intrigue in your audience so that they are motivated to keep reading.
Here's how a strong hook can help you create more engaging content for socials:
It helps grab the social media user's attention. As mentioned earlier, social media is a fast-paced environment where users scroll through their feeds quickly. Starting your caption with a hook is a great way to capture people's attention and make them stop scrolling.
It increases engagement. A good hook can entice people to read more and engage with your content. This can lead to more likes, comments, and shares, which can help your content reach a wider audience.
It enhances storytelling. If you're using social media to tell a story or convey a message, a hook can help you set the stage and create interest in your story or message. This can make your content more memorable and impactful.
Here are a few examples of effective social media copy hooks:
Ask a question that challenges assumptions or piques curiosity. Example: "Have you ever wondered what would happen if…?"
Use a statistic or surprising fact to intrigue your audience. Example: "Did you know that only 10% of people know…?"
Offer a bold statement or a unique perspective on a popular topic. Example: "Forget everything you've heard about… here's the truth!"
Use humor to make your audience laugh or smile. Example: "Why did the chicken cross the road? We'll give you three guesses…"
Use a quote from a famous person or a thought leader in your industry. Example: "As Steve Jobs once said, '…'
Tease your audience with a sneak peek or a teaser. Example: "You won't believe what's coming next… stay tuned!"
Create a sense of urgency by highlighting a limited time offer or exclusive deal. Example: "Act fast! Only 24 hours left to claim your free…!"
Use emotional appeals to connect with your audience on a personal level. Example: "We know how you feel… we've been there too."
Use alliteration or other poetic devices to create a catchy, memorable phrase. Example: "Say it with us: sleek, stylish, and sustainable."
Make a promise to deliver valuable information or solve a problem. Example: "Struggling to find the perfect gift? We've got you covered with our ultimate guide to gifting."
Keep Your Copy On-Brand
You shouldn't just stay in the character limit when writing social media copy, you should also stay in character.
A consistent voice is the tone, style, and personality that is projected through your brand's messaging, and it's essential to maintain this consistency across all channels.
If you manage to stick to your brand's voice, you'll get a chance to…
Build brand recognition. When you maintain a consistent voice across all social media platforms, your audience will quickly recognize your brand and messaging, regardless of which platform they are on. This recognition builds brand loyalty and trust, and helps reinforce your brand's identity.
Establish credibility. A consistent voice that resonates with your target audience helps to establish your brand's credibility. Your audience will trust your brand and messaging when they feel like they know who you are, what you stand for, and how you communicate.
Improve engagement. Consistency in your messaging across platforms helps to create a sense of familiarity with your audience, which in turn leads to higher engagement rates. If your messaging is inconsistent or confusing, it may cause your audience to disengage or even unfollow you.
Ask Open-ended Questions to Spark Conversation
Asking open-ended questions in social media captions can be an effective way to improve social media engagement.
Open-ended questions are questions that cannot be answered with a simple "yes" or "no" response, but rather require a more detailed and thoughtful answer.
Here are a few ways asking open-ended questions can help you improve social media engagement:
Including an open-ended question in your social media copy encourages conversation. By asking open-ended questions, you are inviting your audience to join the conversation and share their thoughts and experiences. This can lead to more comments, likes, and shares, which can improve engagement.
It creates a sense of community and makes your audience come back to your social media profile. By asking questions that relate to your audience's interests or experiences, you can create a sense of community and encourage people to connect with one another. This can help to build relationships and foster a more engaged audience.
It gives you access to valuable insights into your audience's preferences. Asking open-ended questions can help you better understand your audience's preferences, needs, and opinions. This can provide you with valuable feedback that can help you improve your content and better serve your audience.
It increases visibility manyfold. When people engage with your content by commenting, liking, or sharing, it can increase the visibility of your post and help it reach a wider audience. This can lead to more engagement and ultimately help in growing your social media following.
Source: @rarebeauty on Instagram
Appeal to Emotions and Use Power Words
Social media copywriting can be a blast when you tap into the power of emotional appeal! By using the right words and language, you can create copy that packs a punch and makes your audience feel all the feels.
Want to connect with your followers on a deeper level? Use sensory language to make them feel like they're right there with you. Using descriptive words that appeal to the senses, such as "taste," "smell," "feel," "see," and "hear" can be highly effective in creating an emotional response.
Need to create a sense of urgency? No problem! Throw in some words that make them feel like they're missing out if they don't act fast. Words like "now," "limited time," "urgent," and "act fast" can create a sense of urgency and encourage your audience to engage with your content.
Source: @savagexfenty on Instagram
And if you really want to seal the deal, use social proof to show them that everyone else is doing it too! When you use language that implies that other people have already taken the desired action, your audience is more likely to follow suit. Words like "popular," "trending," and "everyone's doing it" can create a sense of social proof and encourage your audience to engage with your content.
Here are a few more power words that can change your social media copywriting game:
Unleash
Revolutionary
Master
Epic
Jaw-dropping
Mind-blowing
Exhilarating
Unforgettable
Breathtaking
Sensational
Irresistible
Transformative
Mesmerizing
Astonishing
Compelling
Enchanting
Spellbinding
Empowering
Electrifying
Thrilling
Add a CTA
Ask and you shall receive.
If you want your social media followers to take some action, direct them to the next steps. That's where a CTA (Call-To-Action) comes in handy!
A strong CTA can encourage your audience to engage with your brand by liking, commenting, or sharing your content. It can also prompt them to click on a link or take a specific action, such as signing up for a newsletter or downloading a resource.
A CTA can motivate your audience to take action before it's too late.
A clear and compelling CTA can help to boost conversions by guiding your audience towards a specific action. By giving your audience a clear direction, you can increase the chances of them taking a desired action, such as making a purchase or filling out a form.
By including a CTA that encourages your audience to share your content or tag their friends, you can increase brand awareness and reach a wider audience.
Source: @gymshark on Instagram
But here's the catch — you have to make your CTA pop!
Use action-packed language like "click here," "get it now," or "join the party" to get your followers excited about taking action. And don't forget to sprinkle in some FOMO (fear of missing out) with phrases like "limited time offer" or "act fast" to create a sense of urgency.
Optimize Your Social Media Copy For Search
In the past, everyone's go-to search engine used to be Google. You have a request, you Google it — simple as that.
But ever since Gen Z has become the largest consumer on the market — the 2-billion Gen Z cohort now constitutes a third of the world population and has the spending power of $140B — a lot of things have changed.
According to Google's internal data, almost 40% of Gen Z users prefer to use TikTok and Instagram for internet search instead of Google Search and Maps. A whopping 83% of Instagram users claim the platform helps them discover new products and services.
At the same time, the second most popular search engine after Google is… YouTube! And Facebook has been enjoying an average of over 2 billion searches a day since 2016.
Social media really is attacking Google. And for all it matters, you as a marketer need to take advantage of this trend; don't try to fight it.
If you want to receive more engagement on your social media publications, you need to optimize them for search:
Add keywords to your social media copy
Match the copy to the image/video you share to create a more cohesive message behind your social media publication
Add ALT-text to your images where possible
All these basic social media copywriting practices will help bring more visibility to your content and expand your reach online.
But if you want to cut corners, you might want to learn more about the strategic use of hashtags. Keep reading for more information!
Strategically Use Hashtags To Build Engagement
You may see hashtags on just about every social media post out there. They can play a critical role when it comes to your engagement goals.
How so? Remember: when you add a hashtag to a post, you're essentially entering it into a greater conversation across the whole platform.
People who are looking for more content/information on that given subject will have your content front and center.
This means new opportunities for you to get likes, follows, and other engagements.
At the same time, by building up strong content with your branded hashtag, you can create more awareness for your company.
So when it comes to awareness, good hashtag use can help you in multiple ways.
Be Original to Stand Out in a Pool of Competitors
Before you start creating your social media content, it's important to do a deep dive into your competitors' profiles and see what performs well for them and what doesn't.
By doing this, you'll be able to…
Identify the formats your audience prefers
Understand hot topics that generate the most engagement and spark the most heated conversations
Find the optimal publishing frequency and the posting times
Identify gaps in the market or areas where your competitors are not addressing their audience's needs. This way, you can create content that fills those gaps and meets the needs of your target audience
At the same time, however, you don't want to copy everything they do.
First of all, it's not guaranteed that the social media marketing strategy that works for them will be equally as effective for you. Innovative formats and ideas they've pioneered will not have the same effect on an audience as they will no longer have the "new feel" to them.
Besides, being a copycat will hinder your brand's growth and make your audience question your authority.
If you want to master the art of creative engaging content for social media, you need to find your own recipe for success. You need to stand out from the crowd and offer your audience something that will differentiate you from your competitors.
VistaCreate's e-book "How you can stand out from your competitors" suggests the following approach to creating unique content:
Keep things simple
Do something unexpected
Appeal to the senses with concrete examples
Make your product seem credible
Appeal to people's emotional side
Inspire people with powerful stories
Consider Revisiting And Repurposing Evergreen Content
Creating unique, valuable, and engaging content takes a lot of time and effort. So, you need to ensure you get the most out of each and every piece of content you produce.
Sometimes, the key to creating engaging social media content lies in revisiting, recycling, and repurposing evergreen content.
Here are just a few content repurposing ideas:
Turn answers to comments into a how-to video, a series of Q&A tweets, or an Instagram or Facebook Live
Turn your best-performing articles into Instagram Reels or TikTok videos
Turn a checklist into a social media carousel
Create Instagram Story quizzes out of blog posts, social media posts, or interviews
Turn live streams into YouTube videos, post the best quotes on Twitter, publish TikToks and Reels
Turn an infographic into a social media carousel
Do a "then and now" comparison of your posts
Use Analytics to Gauge User Behavior
Dive deeper than likes and look at your social media analytics and insights.They will tell you what has performed well so you can gauge your audience's behavior. If you can see their behavior flow, you can make their journey of interaction with you a bit more personal.
One major item to note here is that each major social platform has its own existing analytics tool to give you essential info like:
Page actions
Follows/unfollows
Post engagement
Likes
Page views
The VistaCreate team notes that the major analytics tools are as follows:
Collecting monthly insights can help you keep track of how your social platforms are performing over time.This is the point where you're measuring the effects of your intent through your content.
Intent influences behavior.
You can even look at users' search intent before you begin social media content creation. Search intent will help you conduct effective keyword research and shape social media content creation. You can expand the keyword topics beyond your blog content and batch it for your social media using Ubersuggest:
You can conduct keyword research and populate 'content ideas' as well as answer questions your audience is asking by using the 'keyword visualization' feature.
Turn the numbers into content to beat your competitors and reach your audience.
Frequently Asked Questions
What is VistaCreate?
VistaCreate is an online graphic design platform for marketers and small businesses like yours to create content for social media. It will help you cut time with ready-made templates or get creative with a blank canvas to create engaging content. 
Does VistaCreate provide free templates?
Yes – There are free templates that are updated on a weekly basis with new design features for you to choose from. 
What kind of templates does VistaCreate have?
There are over 100K templates for you to get started on. If you're a business owner or social media manager, create social media graphics using various templates to content batch for different social channels. 
How much are VistaCreate packages?
You can get started for free today. However, if you'd like to take advantage of Pro plan perks, the subscription is available for $10 a month (if you take annual plan). If you want to test out the Pro plan, get access to its features for a 14-day period at no cost.
Can I use VistaCreate as a beginner?
Yes – to make sure your learning curve is smooth, they have tutorials and design tips to get you started. You'll get to creating studio-level designs in no time. 
Conclusion
Creating engaging content for social media can be a challenge, but it's not impossible.
By following the tips and strategies we've shared in this article, you'll be well on your way to creating content that stands out, resonates with your audience, and drives engagement.
Remember, it's important to stay creative, authentic, and relevant in a world where social media is constantly evolving. Use the tools and data available to you, and don't be afraid to take risks and try new things.
With dedication, patience, and a little unique flair, you'll be a social media content master in no time!
What tools and techniques do you use to make social media content more engaging?