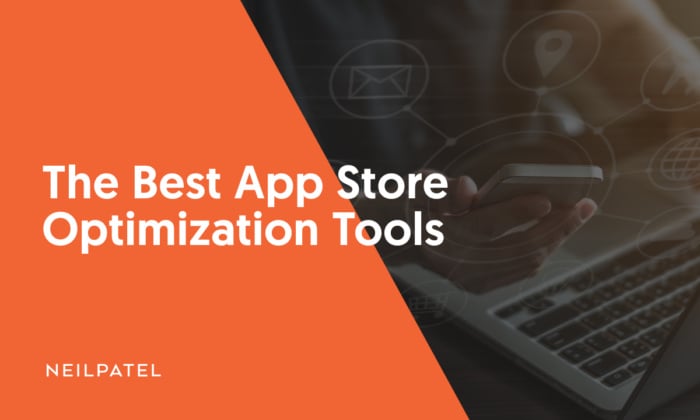 Did you know that about 1,000 apps are added to the Apple App Store and nearly 3,000 apps are added to the Google Play Store per day?
If you want your app to stand out in this ever-changing marketplace, you need to ensure your app's listings are at their very best. So how can you put your best foot forward in a sea of more than six million apps?
App store optimization (ASO) is the process of optimizing your mobile apps so they rank higher on an app store's search results. With ASO, developers and marketers can get more eyes on their product and increase downloads.
However, ASO takes time and effort. That's where app store optimization tools come in.
In this post, I'll review how ASO works and why you should consider using ASO tools to ease your workload. I'll then share my top picks for the best ASO tools so you can find the right fit for your needs.
Are you ready to streamline your ASO efforts? Then let's dive in!
How App Store Optimization Works
There are certain elements of an app store listing that you can optimize. These include:
App name
App title
Keywords
App description
Images and screenshots
Subtitle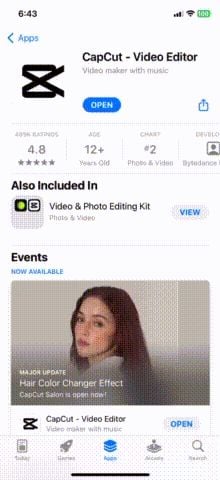 Other elements that impact an app store's search results include number of downloads and ratings and reviews. These are mostly out of your control.
So how does optimization work?
To optimize the above elements, you must understand your target audience and your competitors. With this information, you can then begin to build a list of keywords you want to target.
You can add these keywords to your app store listing, such as in your app title, description, and subtitle.
You do need to be careful to avoid common app optimization scams, though. Those include changing your app listing's titles and descriptions too often. Fortunately, with the right ASO analytics and ASO monitoring tools, you can know how—and when—to optimize your listings most effectively.
Why Do You Need Tools to Help with App Store Optimization?
It can be tempting to want to handle your app's ASO efforts by yourself. However, there are valid reasons you need app store optimization tools to help.
First is visibility. As a developer on the app store, you don't often get visibility into page rankings, category rankings, or keyword rankings. You are also likely to only see very basic performance metrics.
App store optimization tools are able to give you visibility into these important key performance indicators (KPIs). In some cases, these tools will even offer API capabilities so you can filter that data into your own dashboards for monitoring.
A second reason to use ASO tools is to gain enhanced access to app store tools and features. A great example of this is ratings and reviews. App developers can respond to ratings and reviews through the app store. The top ASO tools enable you to do more. In addition to responding, you can also set up alerts, monitor for key terms, and gauge user sentiment.
To cut to the chase, app optimization tools make your job easier. Who doesn't want that?
The 10 Best App Store Optimization Tools
Did I convince you that using app store optimization tools is in your best interest? Then perhaps you're on the lookout for the best-in-class app store tools. I compiled the best choices below, so take a look.
1. Appfigures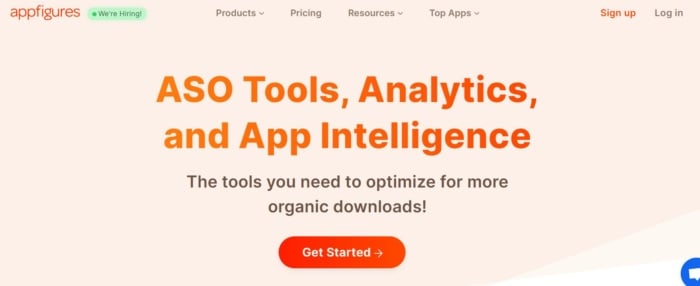 Appfigures is an ASO tool that provides comprehensive analytics and insights for mobile apps. It's truly an all-in-one optimization tool, with features that include keyword tracking, competitor analysis, review monitoring, and revenue tracking.
Appfigures also provides data on app performance, user acquisition, and user engagement. These metrics help developers make informed decisions and optimize their app's visibility and performance in the app stores.
Pricing: Plans that include app analytics, app store optimization, and review management start at $149.99 per month ($119.99 per month when you pay annually).
Best for: A full-suite solution
2. AppTweak

AppTweak is another ASO tool that helps developers and marketers optimize their app's visibility and performance. Just a few companies of note who are using AppTweak include AppQuantum, iVisa, and Medisafe.
Overall, the goal of AppTweak is to provide data-driven recommendations and insights to developers. This includes the ability to create and share custom reporting dashboards. This can help individuals and agencies to improve app rankings, increase organic downloads, and enhance app store conversion rates.
Pricing: Plans start at $99 per month ($83 per month when you pay annually).
Best for: Custom app store performance reporting
3. ASO Tools

ASO Tools is a comprehensive ASO platform that offers a wide range of features to optimize app store visibility and performance. In addition to the standard ASO features, ASO Tools also offers review management.
ASO Tools provides actionable insights and recommendations to improve app rankings, attract more users, and drive higher conversion rates.
Pricing: Plans that include app analytics and keyword analysis start at $59 per month ($49 per month when you pay annually).
Best for: Basic plans for individual developers (starting at $9 per month)
4. AppRadar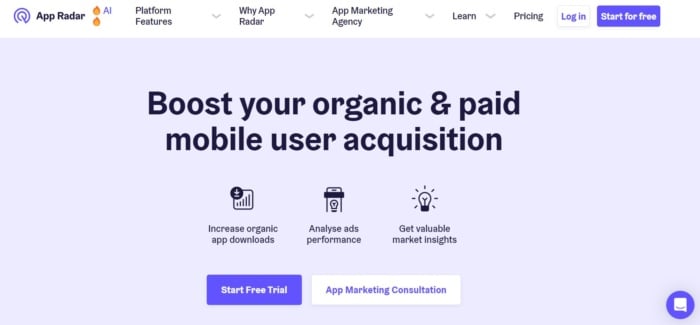 AppRadar is an ASO tool that helps app developers and marketers optimize their app's visibility in the app stores. Brands who have used—and excelled with AppRadar—include eSound and chatterbug.
Beyond the standard features, it also enables developers to track ad performance so you can make important marketing decisions. Most notably, AppRadar offers an ASO workflow. You can update your app store listing—even those with listings in different countries—from within the tool with just a few clicks.
Pricing: Plans start at $69 per month ($58 per month when you pay annually)
Best for: ASO workflow management
5. AppFollow

AppFollow is an ASO tool that focuses solely on app review management and user feedback. It enables developers to monitor app reviews, respond to user feedback, and analyze user sentiment.
Companies who trust AppFollow with their app engagement needs include HubSpot, Roku, and Discord.
With AppFollow, you can truly take your user engagement to the next level. Use the tool to discover areas for improvement based on competitor insights, engage with user reviews, and target user messaging. You can even integrate with various tools that your team uses, such as Slack, Zendesk, and Tableau.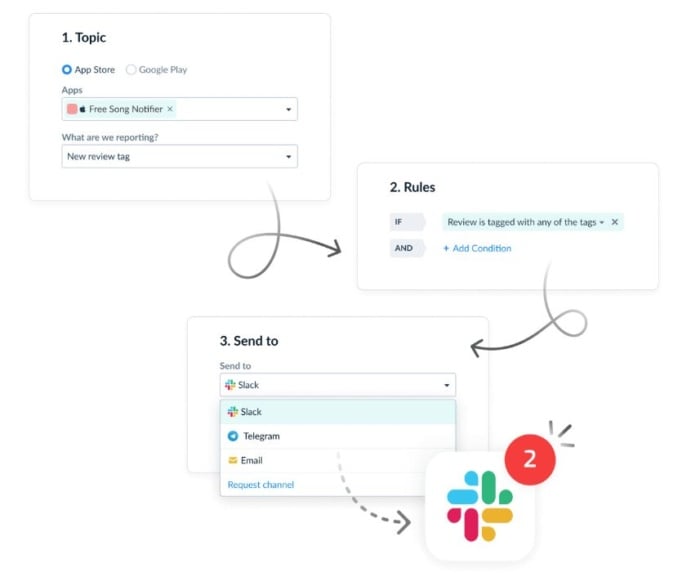 AppFollow does offer other ASO features, too, such as keyword tracking and competitor analysis. This ensures you have a holistic view of the user experience.
Pricing: Plans that include rating analysis, keyword tracking, and ASO tools start at $158 per month ($142 per month when you pay annually).
Best for: Review management
6. SplitMetrics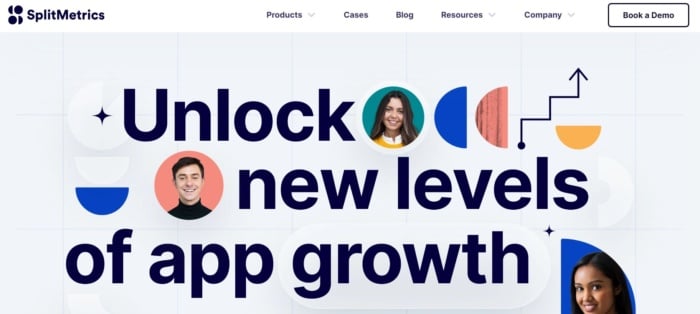 SplitMetrics is an ASO tool with three different products:
Acquire: For automating and optimizing Apple Search Ads campaigns.
Optimize: For running mobile A/B tests to validate hypotheses and improve ASO.
Agency: For engaging mobile marketing professionals to drive app growth.
Among its happy customers are brands such as Babbel and United Tech.
Let's focus in on SplitMetrics Optimize, the product for app store conversion rate optimization (CRO). It provides features like A/B testing of app store pages, user behavior analytics, and conversion funnel analysis.
With SplitMetrics, you can optimize your app's app store page elements, such as screenshots, app descriptions, and app icons, to improve conversion rates and maximize user acquisition.
Pricing: According to G2, plans for SplitMetrics Optimize start at $13,600 per year.
Best for: A/B testing
7. Storemaven

Storemaven is an app store A/B testing and optimization platform. It offers features like app store listing A/B testing, user behavior analytics, and personalized app store recommendations.
This ASO tool is trusted by companies like Yahoo! and Uber.
Storemaven helps app developers test and optimize app store page elements to increase app store conversion rates and drive higher user acquisition. In fact, it does so in a way that other platforms don't: Storemaven offers the only custom product page (CPP) testing solution for full funnel optimization.
Pricing: Not provided.
Best for: Custom product page testing
8. StoreMockups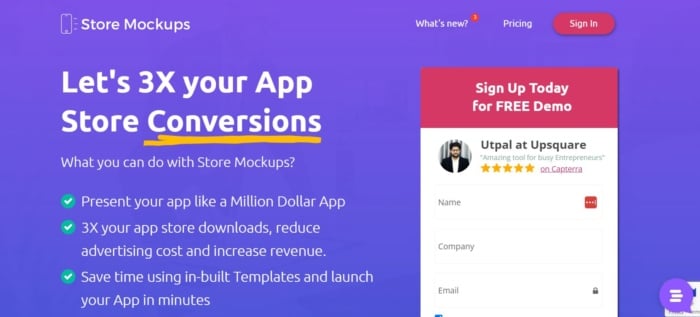 StoreMockups is an ASO tool that specializes in creating high-quality app store screenshots and mockups. It offers a variety of app store screenshot templates and customization options to create visually appealing and engaging app store pages.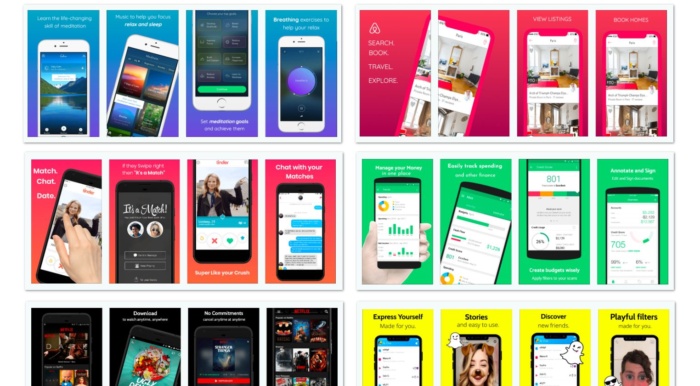 When you use StoreMockups, you'll join brands like Airbnb who are hoping to create a more visual experience for app users.
With StoreMockups, you can even create your own 3-D mockups with the tool's inbuilt mockup editor.
StoreMockups helps app developers create compelling app store visuals that attract users and increase conversion rates.
Pricing: Plans start at $99 per month.
Best for: Designing screenshots and creating mockups
9. MobileAction

MobileAction is an ASO platform with a multitude of free app store optimization tools and paid products. In addition to the typical ASO features, it also offers app store intelligence, which includes data on app rankings, category rankings, app reviews, and ratings.
A few of MobileAction's standout products include:
ASO Intelligence (focusing on keyword research and trends)
Search Ads Intelligence (focusing on CPP intelligence and metrics)
Market Intelligence (focusing on download and revenue estimates)
Pricing: Plans that include keyword analysis, competitor analysis, and app store intelligence start at $299 per month according to G2.
Best for: App store search ad intelligence
10. ASODesk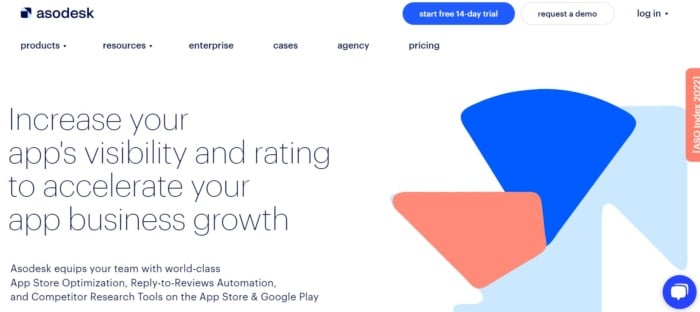 ASODesk is your one-stop solution for all things ASO. The platform provides a range of the usual ASO tools and features to optimize app store visibility and performance. Among its clients are Social Quantum and Belka Games.
With real-time monitoring, ASODesk enables you to keep an eye on the competitive landscape. For example, real-time ASO tracking of keyword rankings, category rankings, and competitor rankings. You can also integrate ASODesk API to create your own dashboards for easy monitoring of app store data and analytics.
Pricing: Plans start at $49 per month ($39 per month when you pay annually).
Best for: Real-time app performance monitoring and keyword tracking
Why Work with an App Store Optimization Agency?
Whether you're an app developer or a marketing specialist, even with the best ASO tools you can't be expected to wear every hat on your team. When you work with an app store optimization agency, you get to take ASO off your plate and put it into the hands of experts.
When you're not focusing on the nuances of ASO, you can put your efforts elsewhere. This includes debugging and updating your app, expanding your outreach, or even enhancing SEO for your app's website.
If you have to work with an agency, you might as well work with the best app store agency. I may be biased but my agency, NP Digital, has been consistently delivering stellar results for businesses around the world. Our experienced team of ASO experts is ready to help you meet your goals.
Frequently Asked Questions
How are apps optimized for app stores?
An app is optimized for app stores in much the same way that webpages are optimized for search engines. There are a few elements on an app listing page (e.g. title, description, subtitle) that can be optimized with high value keywords. There are other elements, like screenshots and photos, that can also be optimized for user preference.
How effective is app store optimization?
App store optimization isn't an exact science. However, by implementing tried and true ASO techniques, you can expect to see positive changes in your app's ranking on app stores. With a better ranking, you are more likely to see more views, more downloads, and more revenue (for paid ads). 
What do app store optimization tools do?
App store optimization tools enable you to monitor and optimize your app store listings. There are tools that specialize in different areas, such as A/B testing, ratings and reviews, and keyword targeting.
Conclusion
App store optimization can seem like a mammoth task. That is, if you're doing it without the help of ASO tools.
Whether you want to choose a full suite tool that meets all of your needs, or you only need help in one area such as mobile app analytics or keyword research, there are plenty of great app optimization tools available. Fortunately for you, I've handpicked the best of the best.
What questions do you have about ASO tools?