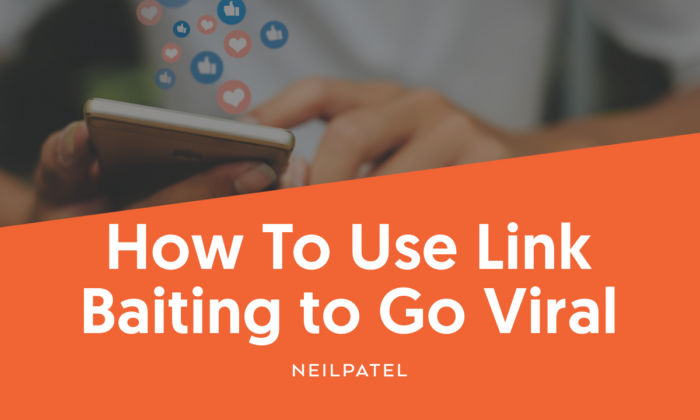 When it comes to creating link bait, there is no one more naturally successful at it than bloggers. Because one thing that bloggers believe in most is good content – if their content isn't interesting, then no one wants to see it, share it, or link to it.
The problem is: finding out what content your audience deems shareable can be quite the challenge.
Don't worry; there's a science to effective link bait that I'll break down here so you can better understand what design choices make for more shareable, and even viral, content.
Let's take a look into what link baiting is, and some examples of link baiting done right, so you have some inspiration to get started yourself.
What is Link Bait?
Link bait is a powerful form of marketing that can help bring a lot more attention to your business. It essentially represents any form of content or website feature that's created for the sole purpose of gaining attention or encouraging others to link to the website.
The most successful link bait not only catches attention, but compels others to share it with people in their social circle or even the general public. Make your content interesting, unique, and engaging enough, and your link bait can quickly spiral into a viral hit online., unique, and engaging enough, and your link bait can quickly spiral into a viral hit online.
Learn the steps required to create successful link bait in the infographic below.
What Makes Link Bait Successful?
There are a few crucial factors that make up any successful link bait post:
Unique and valuable content: You need to catch people's attention with your link bait; otherwise, why are you doing it? Make sure your post is interesting, unique, engaging, and offers value to the audience.
Emotional appeals: To make your link bait more engaging, tap into the emotions and desires of your audience. Most businesses overlook their target audiences, so you can stand out by making the extra effort.
Intentional presentation: First impressions are everything – both online and offline. Put extra effort into making sure your audience's first experience with your business is a memorable one.
Timeliness: To make an even bigger splash, timing your link bait with significant seasonal events, holidays, or social trends can make the difference between a good link baiting campaign and a great one.
Promotion and other outreach efforts: Spending the extra time and money to properly promote your link bait will get your business on the radar of more people, potentially leading to more business.
Popular Types of Link Bait
Here are some types of link bait used by bloggers and marketers to draw traffic and links to their sites.
1. List Posts
You'd be hard-pressed to find something that gets traffic, social shares, and bookmarks like a good resource list. The reason that listicle content generates such interest is that it's (if done properly) a one-stop shop for information that people want to know. And the longer the list, the better.
You can generally be assured that if you see a list of the top 50 resources on Google Analytics vs. a top 10 list, the top 50 will probably contain everything you need to know vs. the top 10.
The best part about lists is that they can be made about virtually any topic. And if you want your list to do well on a particular social network, just focus your list on that network, such as the 50 experts on Twitter or 25 of the best Facebook pages in your niche or industry.
Of course, you don't just want to rattle off a long list of 25 or 50 picks without any additional content to support the list.
At the end of the day, what matters most is offering real value to your readers through your content. If it's not providing value, Google will recognize that, and you'll have a hard time ranking in the SERPs.
What makes a list post successful?
If you want your list post to be popular, you really have to go the extra mile to connect with your audience.
BuzzFeed does this right with its Harry Potter-themed list post:
BuzzFeed is fantastic at tapping into audiences in all kinds of different niches.
One popular niche that many may have grown up on was the Harry Potter series.
It's subject matter that tons of people can relate to, and with such a passionate fan base that Harry Potter has built, there are plenty of people for readers to share that content with.
What makes a list post go viral?
List posts are all about the promotion. Here are some best practices to keep in mind when promoting yours.
First of all, add relevant blog posts to your list.
Many blogs (especially WordPress) have a ping / trackback system that lets the blog owner know that someone has linked to their blog post. Hence, if you can somehow incorporate a blog post for resources in your list, those site owners will get pinged as soon as your list goes live.
Be sure to notify people that they are on your list too! There are a lot of ways you can let them know, such as:
Sending a tweet mentioning them. Depending on the length of your list, you could generate many tweets to promote it, such as "25 of the top social media bloggers including @person1 @person2 @person3 at http://bit.ly/yourlistpost" or similar tweets.
Tagging them on social media. Whether it's Facebook, LinkedIn, Instagram, or other social media platforms, you should tag them and give them a heads up.
Emailing them. As a last resort, it doesn't hurt to simply send a friendly email letting someone know that they are included in your list. It may prompt them to at least socially share your list with their network.
How can you get links to your list?
There are plenty of ways you can get links to your list:
Website outreach: This may sound simple, but just ask! If you have valuable information to share with others in your industry, collaborating with them to share links is a great way to build your brand's authority and connect with more industry players.
Social media sharing: Spread the word on social media about your list post. This will get your post in front of a larger audience and hopefully attract more traffic to your website.
Content submission: Submitting your list post to popular content curation such as Reddit can help you reach more people and create another avenue for readers to find your content.
Email marketing: Email marketing is a great way to engage your audience, and it presents more opportunities to share your list post and other additional content with your readers.
Guest posts: Guest posting is an easy way to get your link out there. Write on someone else's blog and include a link to your own work; it exposes your work to someone else's audience, which could result in a larger audience of your own.
2. Infographics
Chances are, there is no one reading this that doesn't know what an infographic is. Some may know them as information graphics, others as data visualizations. But no matter what you call them, you've seen them.
Remember the infographic I included earlier walking you through the steps of building successful link bait?
What makes infographics so popular is the fact that they can make even the most boring information interesting with a little bit of good graphic design. They can make the most complex information easier to consume by presenting it in easy-to-read graphs and short statistics.
In the case of my infographic for successful link bait, it uses a very applicable analogy (fishing) to demonstrate how to successfully link bait. The parallels between the two actions help the reader digest the information in a way that's more familiar.
What makes an infographic successful?
Popular infographics have two things in common. First, they have great graphic design. You cannot skimp on this one – if you aren't a graphic design genius, find someone who is to create your infographic for you. Second, they present information that people are interested in, whether it is a general audience of people or people within a specific industry.
What makes an infographic go viral?
With infographics, it's about finding the right spots to place it.
For example, you could say to your writing friend, "Hey, I just created this awesome infographic about Facebook. Since you write about Facebook all the time, I thought you would want to share this with your audience."
If you're hitting the right messaging and at the right time, your chances of going viral are much higher.
So stay in tune with the latest trends, seasonal events, and industry developments to make sure you stay at the cutting edge and produce content that others feel compelled to share.
How can you get links to your infographic?
Infographics are very link building friendly. All you have to do is create a super easy embed code for others to use on their website. This embed code can generally include a link, and voila – you will have others coming to your site, grabbing your link code, and linking back to you. A great example is the Noob Guide to Online Marketing.
By adding this easy embed code, the infographic has garnered (to date) over 550 links and a significant amount of social sharing. Also, by going the extra step of adding their mailing list opt-in box, I'm sure they have done well in converting subscribers to their list as well.
3. Videos
So what about those people who don't want to read long posts or are not interested in catchy, colorful graphics? This is where video comes in. Bloggers have been hopping onto the video production train with everything, including:
Video posts of themselves expressing their opinions.
Recorded interview series with industry experts.
Tutorials / screencasts of how to use a product.
Webinar replays.
Short-form stories.
Explainer pieces.
Animated videos.
Customer testimonials.
And more!
In a reverse move, bloggers even invite their readers to respond to a specific topic via video, or enter contests with video entries.
What makes a video successful?
For most blogs, a video's success can be directly related to the speaker themselves, or when it comes to interviews, the popularity of the person being questioned. The bigger the name in your industry, the more people will want to watch and share it.
Of course, don't just bring anyone. Make sure that your video has valuable insight to offer, and maintain high standards for production quality to impress your viewers.
What makes a video go viral?
Viral video, as is evident by the top videos currently on YouTube at any given time, is a random event. It just takes one person with a big following on their blog or social network to notice and share it to get the ball rolling.
The reason it's so easy for video to go viral is that it's so easy to share – if you post a link to YouTube on your social media profile, for example, the whole video will play right in other people's news feeds. They're easily embeddable just about anywhere. And with the right use of keywords, you can rank well in YouTube search as well as Google video results.
How can you get links from your video?
Popular video sites like YouTube allow you to add links to the description of the video. These links will get lots of exposure from your video if it goes viral, and therefore will lead to lots of traffic generation as people will want to get to know the person, blogger, or business behind the video.
4. Controversial Content
Controversial content provokes action.
By creating content that (effectively) prods, polarizes, or garners strong emotional reactions from readers, you can spark the conversation surrounding a given topic and generate a lot of traffic.
You have to be very careful here. It's far too easy to take a step too far and crate controversial content that crosses the line. Be highly aware of the perception you want your content to receive and design it accordingly.
Look at how Heineken did it right here with their controversial ad "World's Apart."
Considering how polarizing politics are, and how paralyzing it can be when opposing viewpoints try to have healthy discussion, Heineken effectively demonstrates the brand's value by having pairs of political "opposites" build a bar, share a Heineken beer together, and discuss their differences.
5. Evergreen Content
Evergreen content takes a different approach entirely. Rather than making a quick splash in the news, evergreen content is all about building a strong catalog of content that covers timeless topics and serves its purpose for the long term.
The goal of creating evergreen content is to build up authority and rank higher in search engines. It's a great way to maintain relevance over time and collect backlinks long after the publish date thanks to the shareable, valuable insights shared within the content.
Here's some evergreen content I created for Ubersuggest that users can always refer back to when needed – the information is timeless.
6. Comprehensive Guides
Since we just looked at my Ubersuggest comprehensive guide, it might be a good time to discuss comprehensive guides in general.
Comprehensive guides can serve as excellent link bait thanks to their high volume of in-depth resources for diving deep into a given topic. An effective comprehensive guide demonstrates expertise and authority in your industry, and is highly shareable with other online resources, which earns your website more backlinks.
Take a look at what Lantern by SoFi did with their comprehensive guide on small business loans.
From Lantern's guide hub page, the company links out to other content relevant to smaller subjects within the greater topic. The comprehensive guide serves as a bridge with multiple paths that lead to whatever the reader wants to learn more about when it comes to small business loans.
FAQs
What does link bait mean?
Link bait refers to content that's primarily designed to attract, or "bait," potential backlink opportunities from other websites. 
Keep in mind that link bait, though meant to attract attention, should not deceive or confuse the reader. Otherwise, your link baiting efforts can backfire and drive people away instead of towards your business.
How do you bait a link?
To bait a link, create content meant to garner attention online. Whether that be through an informative guide, a survey study, or data report, your link baiting attempt will be more likely to succeed by offering information that's valuable and shareable.
Conclusion
Now it's your turn to achieve link baiting success.
Going viral isn't easy work, but with consistent effort making high-quality link bait, your chances are bound to increase over time.
Remember to think about your audience: What captivates them? What are they wanting to learn about? Do you have any insights that your readers would enjoy hearing?
By creating valuable link bait that drives your audience to share it with others, you'll be gathering more backlinks and growing your brand's presence online.
Have you created a piece of link bait that went viral, or at least produced some great results?
About the Author: Kristi Hines is a freelance writer, blogger, and social media enthusiast. Her blog Kikolani focuses on blog marketing, including social networking strategies and blogging tips.