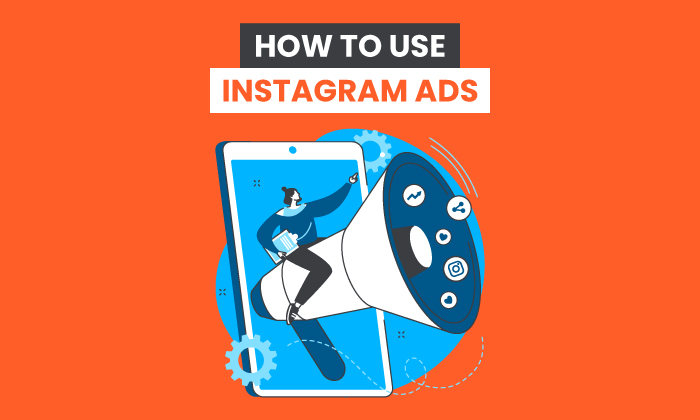 Instagram is one of the best social networks to advertise on. It has grown to be just as big of an advertising platform as its parent company, Facebook. In fact, by 2023, the site is likely to exceed one billion users, according to Statista.
Your best bet for Instagram success is to share stunning visuals and high-quality photos.
Add in a branded or targeted hashtag and you'll be connecting with your ideal customers in no time.
If you want to increase your reach even further, Instagram ads are the way to go.
If you're not quite sure how to use Instagram ads or you're worried about how much they cost, read on to find out how you can run effective Instagram ads on any budget.
Why Advertise on Instagram?
Instagram is growing, and it's growing fast.
There are more than 200 million business accounts on Instagram, and that number doesn't seem to be decreasing any time soon.
The platform's incredible growth is all for a good reason. Marketers know it's worth it: Instagram's ad revenues could reach $18.16 billion by 2021.
Instagram is not only growing considerably, but it's also bringing in some serious cash for businesses. It's attracting tons of big brands because it's well worth it to advertise there. Even if you're not a multimillion-dollar brand, Instagram ads are still just as important for you to use (if not more important).
Here's why any size business should consider Instagram as a way to promote their brand, services, or products:
Anyone can advertise on the platform.
You can target audiences with Facebook data since Facebook owns Instagram.
Audience engagement is limitless. Businesses can interact with users in the comments section of their photos.
Post ads look just like any other shared post on Instagram, which makes them feel less conspicuous.
There are multiple ways to advertise on Instagram, including in Stories, videos, IGTV, and Shopping ads.
Whether you want to increase brand awareness, get more clicks to your website, generate sales, or boost downloads of your latest e-book, Instagram can help you reach a huge audience.
What Are Instagram's Ad Formats?
Instagram offers a range of Instagram ads for you to utilize, giving you the creative freedom to make something spectacular and reach your goals. Here are a few options to explore and a little bit about how to leverage each one effectively.
1. Photo Ads
Photo ads show up organically in your Instagram feed as you scroll through. An Instagram photo ad looks like a post from any of the accounts you are already following but will include a little "Sponsored" notation in the corner to let people know they are looking at an ad. These ads include a call-to-action button at the bottom to push people to a specific URL or your Instagram account.
These are useful if you have a really evocative photo to share your message. Instagram recommends using this type when you have a specific product or message you want to get the word out about. Keeping it simple can help you stand out and grab attention as people are scrolling through.
You can use this format to promote your past Instagram posts, so look for the most popular ones and click "Promote" to get started.
2. Carousel Ads
Carousel Instagram ads take photo ads to the next level. With this style, you can create a series of up to 10 photos or videos in a single ad.
Just like the photo ads, they exist in the Instagram news feed, but each photo or video can connect to a different URL or location.
This allows you to showcase a collection or group of products.
If you're not sure whether to choose between photo ads and carousel ads, think about what you are trying to promote. Resist the urge to think about carousel ads as a way to just stuff more photos into an ad. They should function together and make sense as a unit.
Photo ads are like a one-page ad in a magazine or newspaper, while carousel ads are like lookbooks or mini catalogs themselves. When you're announcing a new product line or a seasonal collection, these are a great option.
3. Video Ads
Video Instagram ads are just as they sound. Like carousel and photo ads, they appear in the Instagram feed. You can post an ad as short as a second or as long as sixty minutes, or anywhere in between.
When you create video ads for Instagram, you'll want to think about your goals. You may choose to provide lots of information right there in the video to entertain or educate or you may use this ad as a teaser to get people to click through to learn more about your brand.
Again, this is where you'll want to think about which is best for you in the news feed—the photos, the videos, or the carousel. Videos allow you to share more dynamic content, but people will have to stop scrolling to view it all. You need to catch their attention quickly and early in the video.
4. Instagram Shopping
Instagram shopping ads are an interactive option for showcasing your products, either in the Instagram feed or in the explore section of Instagram. With Instagram shopping ads, you can add shopping links on your photos for viewers to click and learn more about the product and even purchase directly from the Instagram app.
You will need to set up an Instagram shop to use this ad option. If your brand uses the Instagram shop feature, this is a smart next step to get the word out to a new audience about your products.
You can use flat lays, real-world images, or other detailed photos of your products, and create tags to point people to where they can purchase them directly. This is great if you have unique products, maybe with a seasonal or local twist.
5. Creators
Social media influencers play a big role in the content marketing world these days. Branded creator ads are a component of this game. They can consist of photos or videos that one Instagram account creates organically, and another shares as an ad.
To make this happen, an Instagram creator account needs to provide permission to a business partner or a brand they are working with, to share that particular post.
These types of ads are built on an existing relationship between creators and brands. If you are working with an influencer already, these are a great way to showcase organic content they have created with your products or your services.
6. Reels
Instagram reel ads are ads in between reel videos. They follow the same format as an Instagram reel video, allowing the ad to feel like a natural part of the reel video feed. Instagram reel ads can be up to 30 seconds long and play in a loop, in a full vertical screen. You can think of them as the TikTok format of Instagram.
You may want to use this format of Instagram ads if you have eye-catching and intriguing short video content people are likely to engage with and share. Consider the features necessary for a viral video.
7. Stories
Over 500 million people use Instagram Stories every day, so why not pop in there with your own Instagram ads? Just like other Instagram ad types, stories ads are placed natively within the stories environment so your target audience sees the content right there, as they are scrolling through the stories of the accounts they follow.
To make the most of these types of ads, Instagram recommends using motion-focused content, with the message upfront, to fit well with the fast-paced nature of stories.
8. IGTV
IGTV is one of the newest models of Instagram ads available to creators. These ads play at the beginning of ads an Instagram user clicks on, much like video ads on YouTube or another video platform. IGTV ads can be up to 15 seconds long so you should follow much of the same recommendations as above, getting to your message upfront.
Examples of Great Instagram Ads
Let's take a look at real-world examples of Instagram ads that hit the mark.
1. MUD/WTR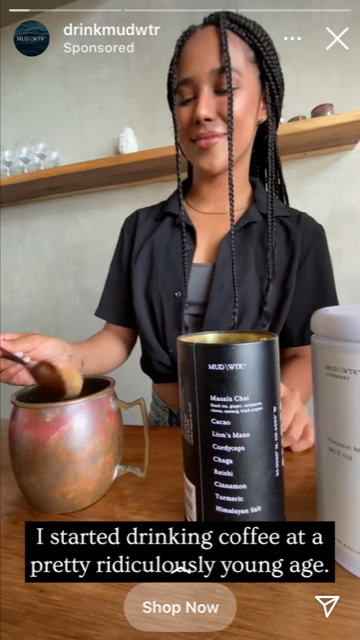 MUDWTR does a lot of things right with their Instagram ads. This is an example of a Stories ad they ran. The content looks very organic, from a content creator on Instagram, including the text captioning at the bottom. They also included a series of Stories, rather than just one. The story is set up in a narrative fashion, grabbing your attention from the start. In addition, they run regular photo and video ads as well so they tend to show up everywhere as you're scrolling around on Instagram.
2. Wool&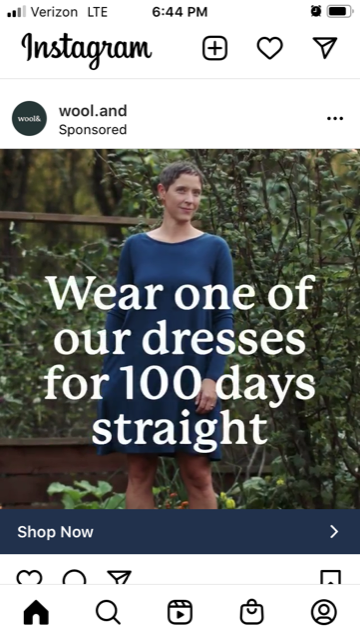 When you're casually scrolling Instagram and a video ad stops you with a challenge. Wool& uses their Instagram ads to promote their 100-day challenge, where they invite users to wear their products for 100 days and get $100. It's a simple challenge that grabs your attention. Just another dress picture may be overlooked.
3. Nailboo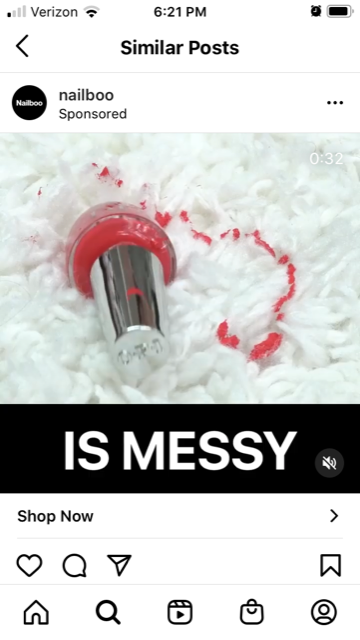 The starting image just makes you cringe, doesn't it? It's effective because you can almost feel it. Red nail polish on white carpet. Eek. The video ad from there moves fast, almost frantically, through the information about their product promising to keep that from happening. It fits the dynamic of a fast-moving platform and hits a pain point from the start.
4. Dechoker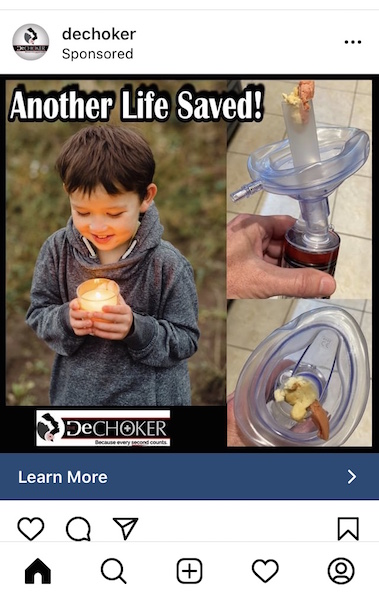 Another example of Instagram ads that hit on the emotions from the start, with a bit of a gross factor. Sometimes you can't look away. This one uses the warmth of the child's photo with the narrative of what their product prevents. It's also a very simple product and message, another important feature. If people have to wonder what you're about, they will keep scrolling.
5. Send a Cake Now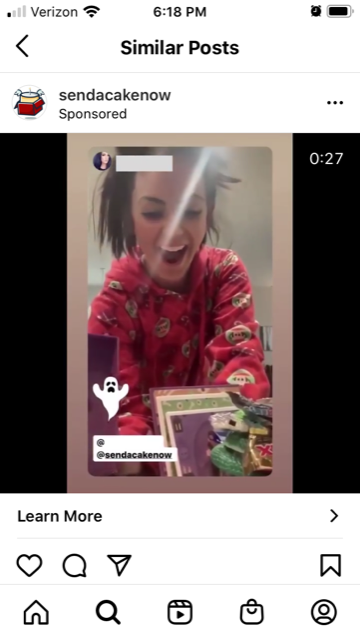 From Candid Camera to America's Funniest Home Videos, there's a long line of entertainment proof that we love to watch a good prank. Send a Cake Now plays on this by showing videos of people opening their product, which launches birthday and celebratory surprises their way. It's ideal for Instagram, with homemade, fast-moving videos. You definitely want to stop and watch who gets surprised next.
Instagram Ad FAQs
Should I run my ads on both Facebook and Instagram?
Choosing to run Facebook or Instagram ads depends on your target market and which platform they use the most often. You can also run on both platforms.
Can I create Instagram ads without an Instagram account?
You can use your Facebook business page to set up your Instagram ads.
Are Instagram Promotions worth it?
Instagram Promotions can help you reach more people on Instagram. If you have a popular photo or video post, it may be worthwhile to promote it to a wider audience.
Instagram Ads Conclusion
Instagram ads can help you up your social media marketing game by increasing the number of people who see a certain post or broaden the audience you organically reach with your posts.
Through a range of different photo and video formats, you can choose the one to suit your content and your target audience the best and share your brand's narrative.
If you find your customers are hanging out on Instagram, and you may want to look into Instagram ads to get the message out to even more of them.
What's the best Instagram ad you've ever seen?