Social media marketing can easily take up your entire day if you let it.
Before you know it, you're going down the rabbit hole of reading posts from your favorite brands—skipping from page to page and channel to channel.
Two hours go by, and you've got nothing to show for it.
Paying attention to your audience takes time, too. Replying to everyone who interacts with your content is tough. Engaging like a real human takes time.
Plus, let's face it: Sometimes, mining the endless scroll of content and interactions on social is the last thing any of us wants to do with our time.
However, social media is an important tool for growing your company and personal brand.
It's a great platform to promote your content, and engaging and interacting with your followers can increase your traffic fast.
Thankfully, there are more than a few social media marketing hacks to save yourself from the sea of chatter.
Here's how to dominate your social media strategy in just 10 minutes a day.
1. Prioritize Platforms
There are millions of active social media users all around the world. At last check, nearly 5 billion.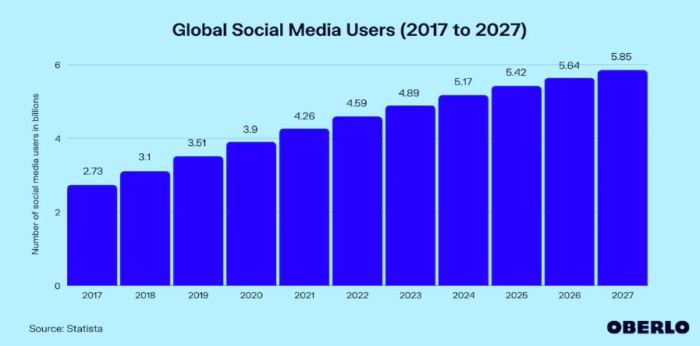 That's great for you, right?
Not necessarily.
It's true that you can almost always reach new customers on social media.
However, if you devote yourself and your brand to too many networks, you risk spreading yourself too thin.
It's nearly impossible to run a business and keep up with every social media channel every single day.
That's why you need to concentrate your efforts on the most popular social sites:
Focus your time and effort on Facebook, Twitter, Instagram, LinkedIn, and perhaps YouTube and TikTok.
Even that might be too much.
Consider your company and brand when deciding which ones to use.
If you aren't visually focused, consider sticking to Facebook, Twitter, and LinkedIn.
After all, Facebook is still the king of social media despite what some social media influencers say.
And while it might not be the most popular with the younger demographic (ages 18-29), it's still in the top three social platforms for that age group.
But one of my favorite reasons to focus time on Facebook is due to the sheer amount of time people spend on it.
In fact, two-thirds of all Facebook users are on the site daily.
What does this mean for you?
You don't need to spend every day monitoring LinkedIn or Twitter.
You should schedule content to post on them, but you don't have to check them as often as Facebook!
Prioritize your efforts.
If your to-do list is anything like mine, you probably have plenty else to focus your time on.
Narrow down your platforms and targets to the ones that work for your brand and you'll significantly reduce the time you spend on social media every day.
2. Get a Full Social Media Rundown With Hootsuite
What's at the top of your social media daily checklist?
For many of us, it's checking your accounts every day, right away.
You check for any new brand mentions, direct messages, or questions to answer.
If you have a lot of platforms to run through, this can be time-consuming.
Think about it for a second.
Ten minutes spent answering questions on one channel doesn't seem bad. Multiply that by a few different networks, though, and you're looking at closer to an hour.
Of course, that's assuming you're only checking your accounts once a day! We both know that's not the case.
Luckily, using tools like Hootsuite as a social media hack allows you to manage every social media account from one place.
Instead of wasting time checking each one individually, you can get all your updates from your single Hootsuite account.
If you haven't already, add all your social networks to manage them on Hootsuite: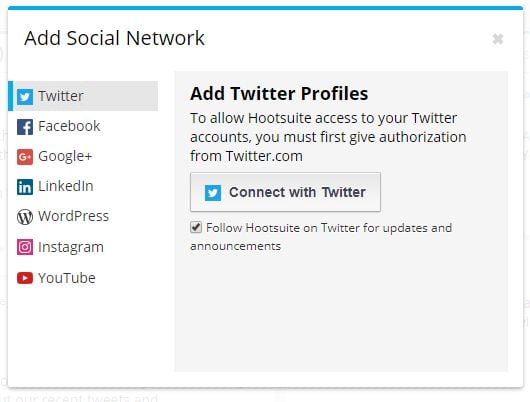 Now, gone are the days of opening 10 browser tabs to respond to your loyal customers or post quick updates on each platform.
You can quickly monitor things like brand mentions, interactions, or direct messages for all your accounts: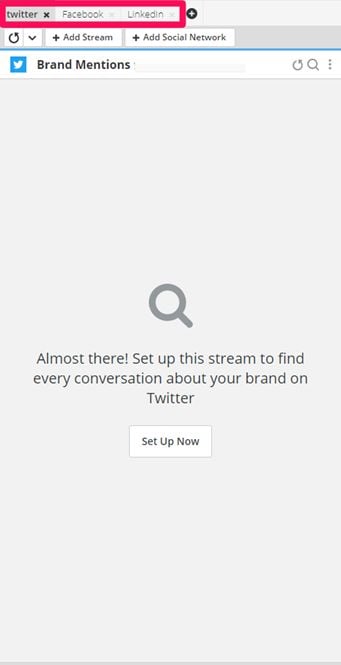 You can effectively manage important details like welcoming new followers and engaging with those who just signed up.
Hootsuite also shows you content that those new followers have just posted, allowing you to interact with their posts and create a good relationship:
And you can assign different messages or questions to teammates better suited to answer them.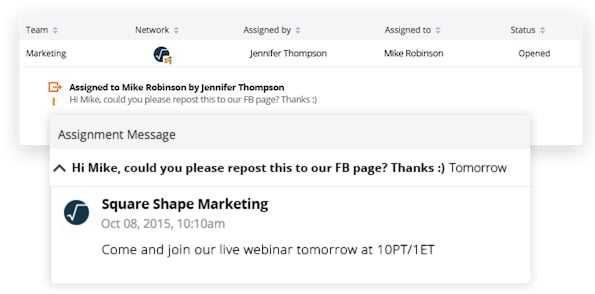 The page allows you to set up multiple feeds and columns based on locations or keywords.
For example, if you're hosting an event, you can set up a stream for keywords based on location to track people tweeting at your event.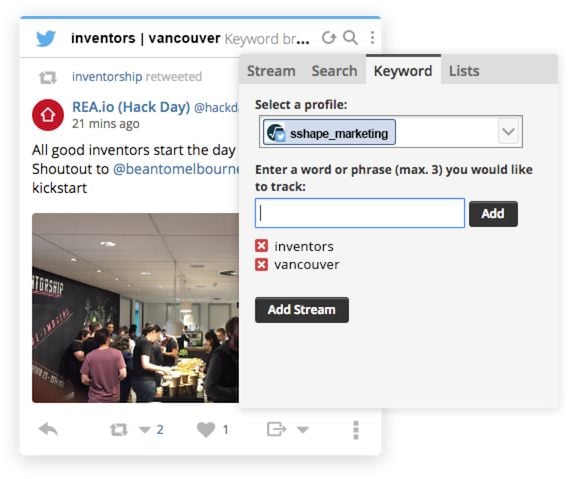 Hootsuite offers a ton of options to meet your individual social needs—all in one place.
Now you can stop wasting time and start killing your social media strategy.
3. Quick Curated Updates With Feedly
After you've nailed down the basics of your account, it's time to start compiling content to share.
This often means that you need to promote content that isn't yours.
Don't get me wrong. Sharing your own content is great.
People follow you for a reason.
Sharing only your own stuff can get a little old. Plus, curating and sharing other content shows that you're a thought leader.
Did you know half of the biggest brands post on Twitter at least 10 times a day? That adds up to 300 posts a month on Twitter alone!
There's no way you have that much content lying around. Working others' content into the mix keeps your feeds fresh and compelling.
One of my favorite tools to pull in the best content is Feedly.
For example, if you're interested in sharing news from the top marketing sources with your followers, just type a brand or website into the search bar:
Let's use HubSpot as an example because they post a ton of content. You probably wouldn't be able to stay on top of everything by manually checking their site.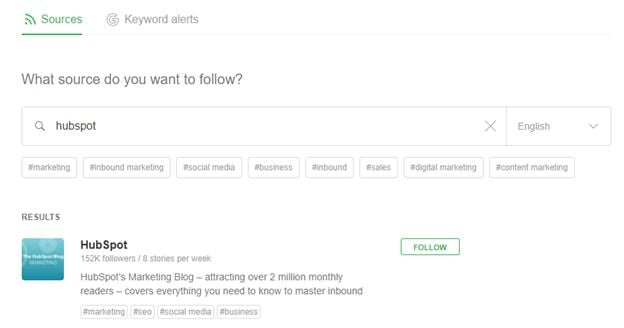 The biggest publishers and brands likely already have a Feedly feed to follow.
Click on the "Follow" button to create a new collection:

Give that collection a simple name so you'll recognize it among any other feeds you create:
Once you create a list, you'll also get tons of suggestions on related blogs and websites to follow.
That's helpful because you won't have to manually round all these up. Or spend time searching for other top blogs in that space.
Simply add any top-level blogs to your list to get the latest and greatest content right in your inbox:
Once you've completed the basic steps, all you need to do is check your email or Feedly dashboard for updates:
Instead of browsing 10 different industry blogs and taking extra time to find an article or two to curate and schedule, you'll get the most popular content sent right to you.
So now that you've collected some articles (beyond your own) to share, it's time for your next social media marketing tip: pre-scheduling your posts.
4. Batching and Scheduling (and Rescheduling)
Have you ever heard of batching?
Essentially, it works like this.
You take one day during the week and spend some time scheduling and curating tons of content so that every other day you only need to spend five to 10 minutes checking in.
You can save tons of time by treating high-volume activities, like email, in batches.
It might take you 20 minutes a day to find, schedule, and share content when you only do a few at a time.
With a longer investment of time, once a week or month, you can prep your entire scheduling calendar ahead of time.
That way, you cut down the initial 20 minutes a day to maybe only five. All the labor-intensive work is already scheduled out in advance.
You don't have to be one of the many marketers who spends six or more hours per week on social media.
You've got reports, key performance indicators (KPIs) to track, and meetings.
Wasting six hours a week on social media isn't a good use of your time.
That's why batching is one of my favorite tricks to cut down my daily social media work.
On top of batching, I reschedule content.
Even if my blog post is two weeks old, that doesn't mean it's suddenly irrelevant. It also doesn't mean that everyone saw it the first time I posted it.
There are about 6,000 tweets every second.
Most people will miss that first tweet.
There's simply too much stuff happening. The tweets fly by too quickly.
Here's a good outline I follow when it comes to sharing content to maximize my posting amount in as little time as possible:
Batching and rescheduling will help you produce all your posts in the same timeframe and let you use the older stuff again to reduce the amount of new content you need.
5. Schedule Everything with Buffer
If you're not using scheduling apps like Buffer for social media, you're likely spending way too much time every day on social.
Buffer helps with the content-sharing process so you can establish yourself as an industry expert.
It enables you to easily schedule content on multiple social platforms at once. It even helps you schedule posts at the most active social hours of the day:
Posting at the right times is critical for engagement.
If you post in "dead zones," your content will get fewer clicks, likes, and shares.
Simply plug in the highest-traffic times for each social platform under the scheduling section: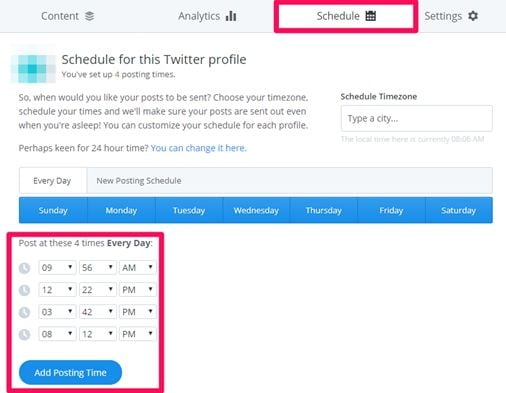 Once you identify your scheduling times, start scheduling your content.
Downloading Buffer's Chrome extension makes the process even easier.
The extension makes it easy to share any of your content directly from the page itself.
Navigate to your newest blog post and click the extension icon. Then, you can share that post directly to every social account you have:
It's that easy!
You can add that post to your queue, share it now, or schedule it to go live at a specific time.
6. Create Lists on Twitter
Do you find yourself getting bogged down in the mess that is Twitter?
I know I do!
It's a sea of trending topics, moments, mentions, and DMs.
Thankfully, Twitter helps you manage the conversation with lists.
For example, you can create lists around specific topics like "SEO." Or you can create lists of specific members, like "SEO experts."
That way, you can bypass the entire firehose of a timeline and jump straight into the lists. It's a great social media hack.
You can even monitor lists from your recently set up Hootsuite account.
To get started with Twitter lists, click on the three dots in the left navigation just above the post creation tool: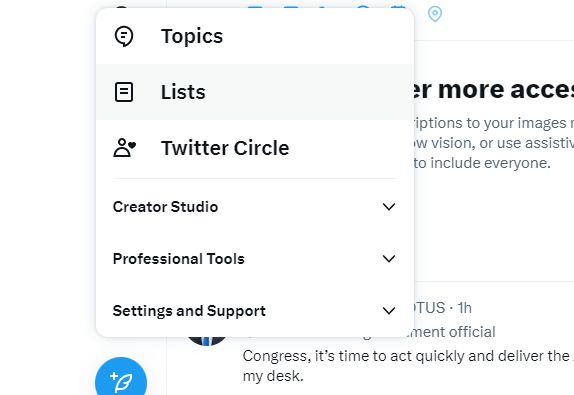 Then, create a new list:
Create your lists based on topics such as marketing news, top influencers, or whatever is most relevant to your industry or niche.
I suggest creating multiple lists based on content type so that you can quickly distinguish between the content in each channel.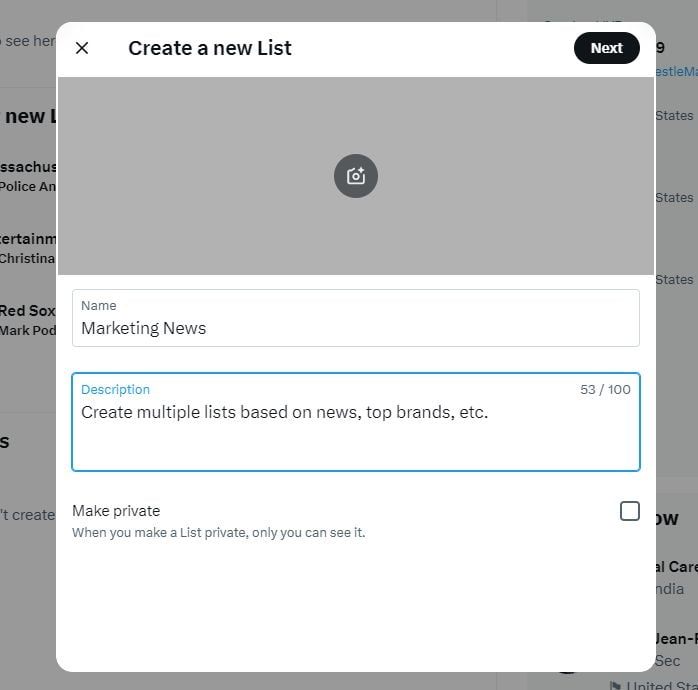 Now it's time to add people to this list: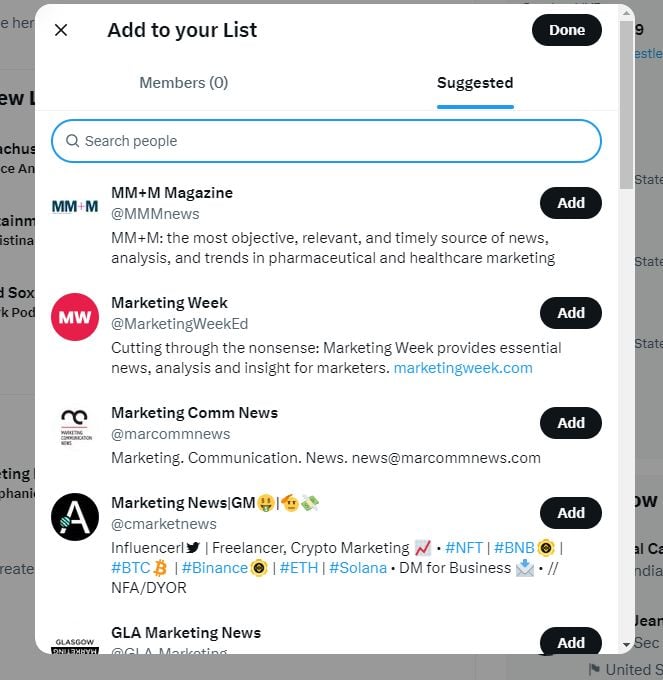 You can add anyone on Twitter, from industry leaders like HubSpot to smaller accounts based on your interests or content similarities.
If you don't feel like crafting your own list, you can always piggyback on popular accounts.
Do this by going to an account page in your industry and clicking the profile.
Next, click on the "lists" section to see what lists they subscribe to and which they're a member of: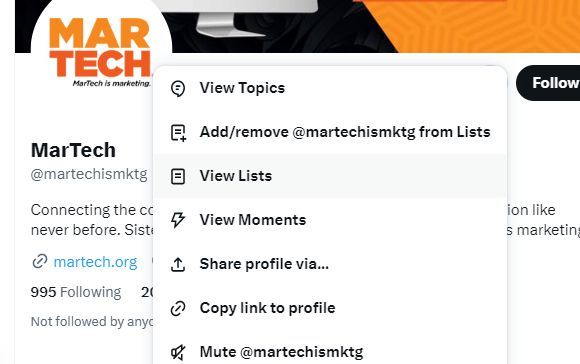 You can also find great list options and even ideas for creating your own:
Use the Twitter lists social media hack to generate curated content and engage with bigger brands fast.
7. Keep Track of Popular Accounts With LinkedIn's Sales Navigator
It's no secret that people don't spend as much time on LinkedIn as they do on Facebook:
Source: Pew Research Center
In fact, people spend the least amount of time on it. Only 17 minutes per month!
So, what does that mean for marketers?
You can cut back your own time, sure. But if you do spend less time, make it 10x more valuable.
The biggest benefit of LinkedIn is the quality of people you'll find on the platform. So you don't have to worry as much about keeping up with content publishing.
Instead, focus on connecting with a few quality people each week.
LinkedIn's Sales Navigator is the perfect tool to make just two or three minutes count.
It helps you bring together updates from all the companies or target accounts you follow to better leverage engagement and interaction.
Here's what it looks like: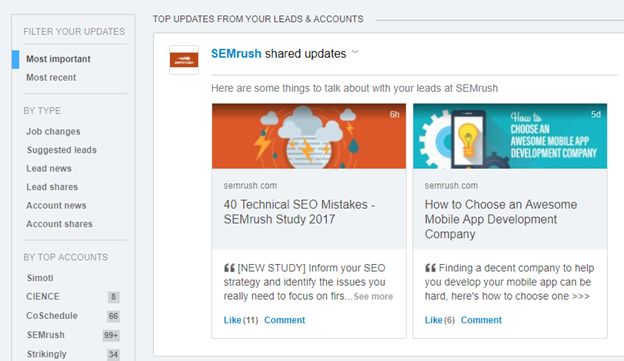 The Sales Navigator provides up-to-date information on each company you follow or target.
You can get their shared updates curated and sent directly to your inbox. You can even receive alerts for brand mentions in the news.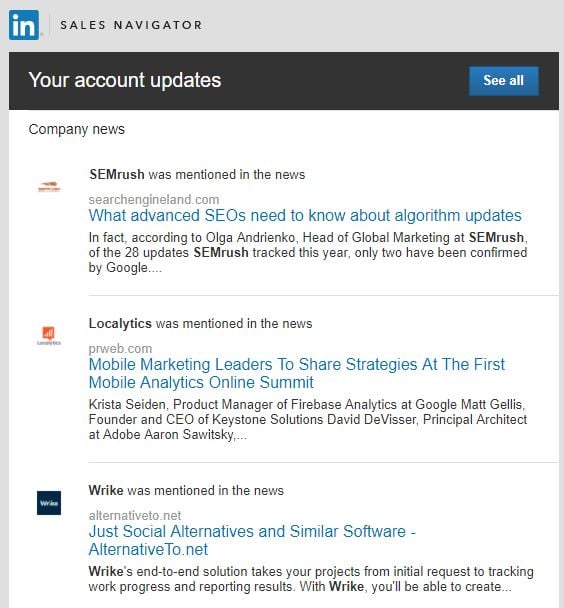 Take advantage of the many customizable ways to get information from the best companies out there.
You can use this information to interact with their newly shared content.
The trick is to get each brand, influencer, or prospect to recognize you by name. That means you'll have to follow up a few times to build that rapport and recognition initially.
LinkedIn is a lead generator like no other channel, but you don't have to invest a ton of time into the platform.
The social media marketing hack here is making the most of the time you do spend on LinkedIn.
8. Utilize User-Generated Content
User-generated content (UGC) is exactly what it sounds like: content created by your brand's users. Examples include image content, reviews or testimonials, and common queries transformed into FAQs.
UGC not only decreases pressure on you to design content ideas day by day, but it also serves as an essential asset for social media growth. Thanks to the power of word-of-mouth marketing, user-generated content is 42 percent more effective in earning increased traffic, leads, and sales than posts you come up with yourself.
As with any content asset, you need a strategic plan to harness the power of your user-generated content. Use these tips to help you:
Use Cohley. Cohley is a content generating and testing platform that enables users to plan, source, and disperse UGC through an easy-to-use interface.
Leverage reviews. With reviews influencing 93 percent of online purchases, you're going to want to leverage user responses to your products. Encourage customers to leave reviews about your brand or products whenever, wherever, including third-party sites like Yelp, Google, and TripAdvisor. Both on- and off-site reviews are vital to building your credibility and nurturing consumers (plus, they result in great content).
Create a hashtag contest. Encourage your consumers to actively share content with a hashtag contest. Users can share photos or videos aligned with the hashtag. Ideally, this interaction drives your hashtag to trend, which can enhance engagement and create brand awareness.
Look at this hashtag initiative from the Denver Art Museum: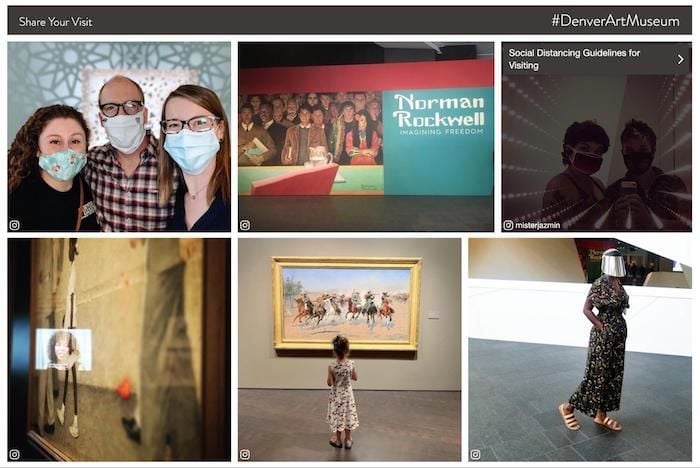 Museum visitors shared photos on their social channels with the hashtag #DenverArtMuseum, which the museum then shared as UGC on their branded channels.
9. Use Go-Live Features to Showcase Your Brand Behind the Scenes
Globally, consumers watch an average of 100 minutes of digital video a day.
Did that number stop you in your tracks? It should.
How can your brand get in on this massive digital consumption?
By going live. It's another super effective social media marketing hack.
Zoom, Facebook, Instagram, and TikTok (among other platforms) come equipped with easy live video functionality.
While video content is generally an incredible social media content asset, going live allows your followers to interact with you in real time.
Much like any other marketing campaign, you must thoroughly plan your live video strategy.
Here are some tips for your next go-live:
Promote your live stream in advance. Be sure to share the specific details of your live stream well before it kicks off. Include the date and time, platform, and other enticing details about the value the go-live will offer your audience.
Build a plan for engagement. To ensure brand interactions take place, set aside time for questions and strategically prepare answers to questions your audience may ask. You can also foster a sense of community and inclusion by greeting attendees by name as they enter the feed—don't just launch into your presentation and forget about whom you are here to serve.
Include a call to action (CTA). Host your live stream with a specific audience action in mind. Whether this is making a purchase or subscribing to your channel, mention your intended CTA multiple times throughout your live video.
Pick the right platform to broadcast your live videos. With a variety of platforms to choose from—Facebook Live, Instagram Live, Twitch, YouTube Live, TikTok Live, and Periscope—you should be more than able to find a platform that meets your and your audience's needs.
As you grow more comfortable with live streaming, you may want to consider adding tools into the mix.
For example, vMix is a live video production software that allows you to input music, presentations, videos, streams, and more. Other tools to consider include Facebook Live Media and ManyCam.
10. Diversify Your Content Assets
While your intended audience may share a need, they're also a collection of unique individuals with unique learning styles.
When you diversify your content assets, you increase the likelihood that your social media content will resonate with more members of your audience.
To this end, another social media hack is to create a library of content assets, including infographics, success stories, blogs, whitepapers, videos, and many other forms of consumable social media content.
Creating new content assets, however, is a time-consuming process. From ideation to creation, designing a social media content library may feel daunting for organizations with small marketing departments.
Here's how to make it happen without getting bogged down:
Use tools to help. When evaluating which tool(s) to use, ensure you're in the driver's seat. Consider options that allow you to set and stick to predefined pay ranges for creators. Also, include as much context in your creative briefs as needed.
Repurpose, repurpose, repurpose. Do you have a bulky downloadable on your website as part of your mailing list sign-up process? Break that thing up into quotes and smaller, more consumable content pieces like checklists or infographics.
Try new mediums. If you've historically used the same three content types, consider mixing up your strategy by incorporating new models. Consider polls, infographics, videos, video blogs, and more.
Perhaps your audience has desperately been waiting for unique content from your brand. There's no time like the present to find out.
11. Create Cohesive Campaigns Across Social Channels
While it'd be wonderful if identical content had identical success across social channels, that's not usually the case. As we previously discussed, different channels have different audiences, not to mention different requirements and expectations.
As you craft your cross-social campaigns, you want to tell a unified story that doesn't bore your reader. Content should be thematically aligned but present very differently on each respective platform.
While telling a cross-platform narrative may seem challenging, here are three tips to help you succeed:
Use tools to help. Tools like Canva, Buffer, and Meet Edgar can help you present a united front on your social media channels. With beautiful graphics (Canva), post-scheduling tools (Buffer), and pre-generated content ideas (Meet Edgar) at your disposal, you'll be in pretty good shape.
Identify the right performance indicators. Every channel has different metrics associated with it. To know if you're achieving your campaign goals, assess the metrics you have attributed to each channel to determine if they're true measures of success.
Testing. To calculate what resonates best with your audience on specific platforms, conduct A/B testing on social media and then use those results to adjust your approach on each channel.
12. Lower Internal and External Costs to Produce Assets So You Can Spend More Elsewhere
We've already discussed the time cost associated with social media content asset creation. Now it's time to talk about the financial cost. Creating new assets can be a budget-taxing process. It doesn't have to be, thanks to this social media hack.
First, use or partner with Cohley to produce assets for you.
With Cohley's testing capabilities, you can determine where to best use your budget, optimizing your available funds and ultimately increasing your return on investment (ROI). You can also save big on paid social ads. For example, T3 saved over $450,000 in content costs after choosing Cohley's UGC platform rather than funding its own photo shoots.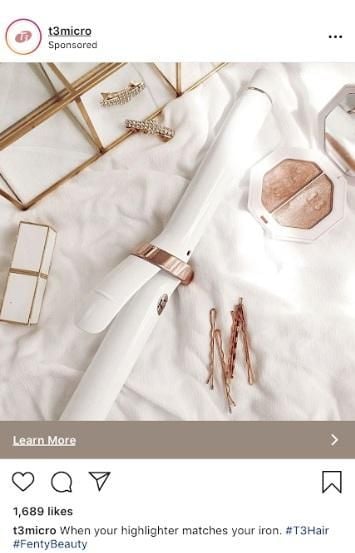 Second, view everyone on your team as a writer. Talk with your subject matter experts about the biggest issues facing your community and how to solve them. When you turn that conversation into a blog or FAQ, you've created a new content asset that you can repurpose into a variety of pieces of social media content without retaining the services of a writer.
13. Build Relationships With Influencers
If you haven't gotten started with influencer marketing, you're in the minority. Did you know 93% of digital marketers have used influencer marketing at least once?
It's no wonder why. On average, businesses and brands can expect to earn $5.20 for every dollar they spend on influencer marketing. That's an ROI of 520 percent!
The good news is that whether you're new to influencer marketing or you want to up your game, there are various platforms to help:
Influence
Intellifluence
AspireIQ
Webfluential
Famebit
Influencity
These platforms—also known as influencer engagement marketplaces—help you build relationships with influencers who fit your target demographic. They can also fully manage the relationship (from contract to content approval to payment) or just provide you with a platform to do so yourself.
14. Integrate Video (Especially Short-form)
Whatever your end goal may be with social media marketing, there is one thing we know for sure: Higher engagement means better results.
So, here's my next social media marketing tip: Why not consider integrating video into your social media campaigns?
According to 66 percent of consumers, short-form video is the most engaging form of content on social media. This is up from 50 percent in 2020.
So, how can you get started?
First, start small. If you want video to be part of your long-term strategy, don't overwhelm yourself by turning all your posts into video posts. So, if you've never posted a video before, plan on one or two the first month. You can gradually increase the number of video posts based on how your audience responds.
Second, note what your competitors are doing for their video content. While you want to avoid copying your competitors at all costs, you can certainly take inspiration from older posts of theirs. Think of this as market research.
You can also take inspiration from accounts that aren't direct competitors but whose video game is on point. Take Wendy's, for example: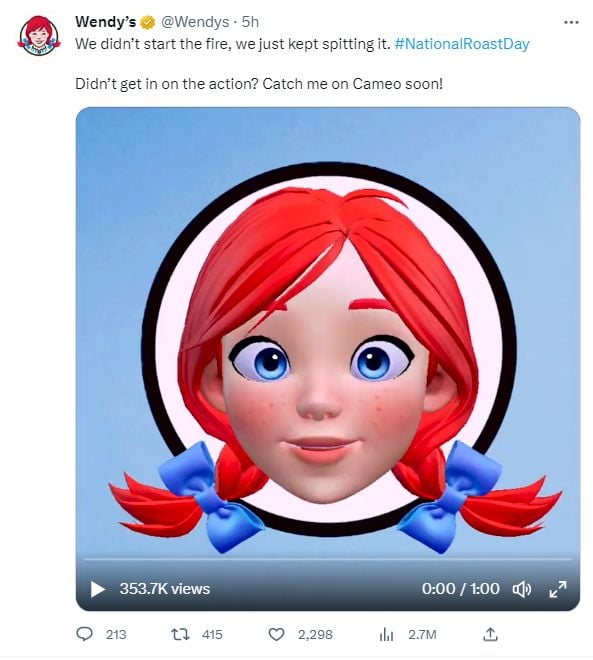 Finally, have fun and experiment with different styles, post times, and video lengths. You'll never know what will click most with your audience if you don't test the waters.
15. Consider Using Humanized Chatbots
With the rise of artificial intelligence (AI) technology in digital marketing, there are many concerns surrounding its adoption and usage. One of the biggest concerns for digital marketers is whether it will replace humans in the future.
The good news is that there will always be a need for humans in the digital marketing equation. That doesn't mean you can't benefit from using AI technology in small ways for your business or brand.
One way to utilize AI technology without jeopardizing the humanity of your business is to use chatbots.
Chatbots are automated programs that respond to a variety of customer requests. You can use them on websites, via text, or on social media messaging platforms like Facebook Messenger: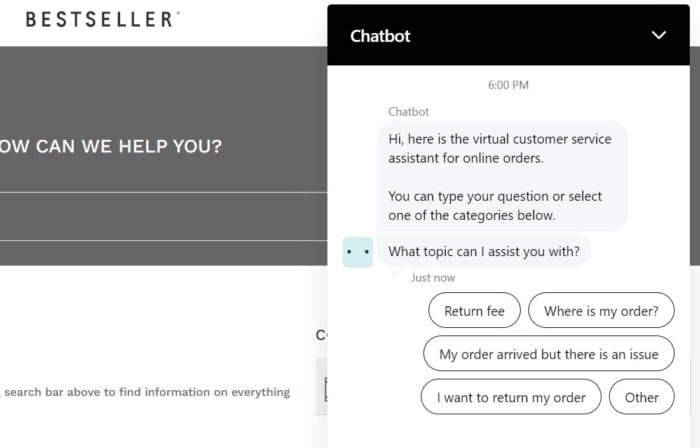 The key here is to use humanized chatbots. These utilize AI to "learn" and then adapt to the environment, giving them a sort of persona of their own.
Humanized chatbots can improve the overall customer experience. This naturally leads to increased revenue and conversion.
16. A/B Test Your Campaigns for Success
How can you know whether the campaigns you're running are the best versions of themselves? If you aren't running A/B tests, then the answer is simple: You can't.
An A/B test, or split test, is a way to test two (or more) versions of one campaign. Typically, you test one or two elements of the campaign at a time. This ensures you can accurately qualify your results and pinpoint the element that drove success.
For example, you might test the CTA on a sponsored Facebook post.
One version of the campaign has a CTA that says "Learn more," while the other version says "Click here."
There are so many elements of a campaign to test that it's seemingly impossible to run out of ideas. Here are just a few ideas to get you started:
Date and time
Content length
Short-form versus long-form video
Text-only versus image
Text-only versus video
Image versus video
Photos of people versus photos of products
Calls to action
Image versus animation
As you collect results on various A/B tests, you'll likely begin to form a better idea of what your audience prefers. This will help you to build more effective campaigns in the future.
FAQs
Do you have more questions about social media hacks? We have the answers to some frequently asked questions on the topic.
What are some social media hacks?
How can you optimize the reach and engagement of your social media accounts? A few social media marketing hacks include taking advantage of trending topics, sharing your content across all platforms, and focusing more time on the platforms where your audience engages most.
How to hack the social media algorithm?
While social media platforms will typically keep their algorithms under wraps, there are a few things you can do to hack the algorithm. 
First, post at the right time for your audience. This may mean posting outside of traditional "peak hours," but this will drive higher engagement with the followers who matter. Second, avoid outbound links on your posts. Social media sites may suppress your posts otherwise. Instead, refer to them in the comments or add the link to your bio. Third, post video content often. This is the most engaging type of content across the board.
How do you outsmart the Instagram algorithm?
If you feel like your account isn't reaching as broad an audience as it should, you will need to work to increase engagement. A few ways to do this include posting (and consistently sharing) Instagram Reels, using interactive elements on your Stories (e.g., stickers, quizzes, this/that), and driving engagement on your posts with thought-provoking captions and by responding to comments.
Conclusion
Marketers and social media have a bit of a love-hate relationship.
Millions of people and countless customers are using it every day to find new brands, information, and industry news.
It can also take up way too much time in your busy schedule.
You can quickly get lost trying to interact with everyone who messages you.
Plus, every platform offers something different. So, it will often end up consuming more of your limited time.
The key to dominating social media in 10 minutes every day is to narrow down your platforms and targets to the ones that work best for your brand.
Next, use tools like Hootsuite to manage those platforms in the same application.
Then you can easily curate content with Feedly and share it on Buffer.
It's possible to limit your daily time on social media to just 10 minutes. We hope these 16 tips for social media marketing help you reach that goal.
You just need to use the right social media tools and focus your efforts on the most important aspects of your strategy.
What's your best tip for getting the most leverage out of social media in the least amount of time?