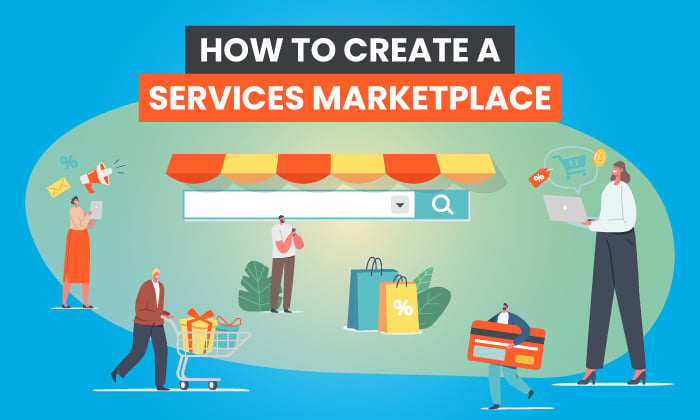 "Got skills? Sell 'em."
This mantra has seen millions of freelancers turn to the internet and become location-independent.
That's not all.
Over the last decade, service marketplaces have sprung up and distributed how we work and live.
For instance, Airbnb, a marketplace for vacation rentals, has over four million hosts who have welcomed over 800 million guests. Food delivery service marketplaces are expected to reach $154.34 billion in 2023.
The success of current platforms is one of the main reasons entrepreneurs are looking to get into the business.
In this post, I'm breaking down everything you need to know about service marketplaces and how to launch one people will use.
What Is a Service Marketplace?
A service marketplace is a website or app for buying and selling services. Freelancers, private individuals, or companies in various industries can advertise their services and get hired by people who need their help.
The most successful service marketplaces cater to a specific market and redefine how we manage our lives.
For example, Upwork and Fiverr have changed how companies find freelancers for gigs. These online marketplaces have also made remote work more accessible to millions of people around the world. Meanwhile, Uber and Airbnb have disrupted how we travel, created more jobs within the gig community, and given homeowners a way to make extra cash on the side.
Why Should You Create a Service Marketplace?
The service industry is lucrative. In the U.S. alone, the consumer service economy is worth a whopping $9.7 trillion.
If getting a slice of that pie isn't enough to tempt you, here are some of the top benefits for creating a service marketplace.
You don't need to be a professional: While understanding the industry you're helping is a must, you don't need to do the work. As an owner of a services marketplace, you only need to focus on attracting sellers and buyers. For example, you can start a website for personal trainers without having the skill.
It's easy to build: These days, there are various marketplace software providers to make the process of launching your site quick and simple. Some of the top providers are Sharetribe, Shopify with Multi-Vendor Marketplace Extension, and Arcadier.
It may be more profitable than an e-commerce marketplace: Unlike Amazon, when you provide services rather than goods, you don't need to figure out things like shipping and inventory. Fewer costs mean higher commissions for you and your sellers.
You can outwit, outlast, and outplay the competition: Sites like Upwork and Thumbtack are wildly successful because they make finding and buying services faster and cheaper. In a world where time is a scarce commodity, creating this level of convenience could give you the upper hand over your competitors.
How to Create a Service Marketplace
Curious about how to start your marketplace? Here are the top four things to keep in mind if you want yours to become successful.
Do Your Research to Find a Niche Service Marketplace Idea
The trick to finding a winning service marketplace idea is understanding the needs of sellers and buyers.
Apps like TaskRabbit and Postmates are successful because both companies figured out how to solve a problem by making it easier and cheaper to sell and buy those services.
Here are some tips for researching your niche to find a business idea:
Identify inefficiencies: What tasks are time wasters? What services in a marketplace would help people save time?
Improve trust: Are there tasks in your niche that people want to delegate, but a layer of trust is needed from both parties?
Costs: What services would help people save and make money if available online?
Overcome hurdles: What hurdles does your niche experience? How would a marketplace eliminate these hurdles or make the process smoother?
Bring fragmented markets together: Are people offering certain services on places like Facebook Marketplace or Craigslist? Would a marketplace for that service improve the user experience for buyers and sellers?
Build a Website for Your Service Marketplace
Once you have an idea for your service marketplace, the next step is to create your website.
There are a few places to do this, including:
WordPress: Buy a WordPress service marketplace theme or build your site from scratch. If you go with the latter, check out my guide on the best e-commerce site builders.
Marketplace Platform: As I mentioned earlier, there are sites specifically made for this purpose.
Whichever option you go with, there are some key features you need to include to make sure it's a great experience for everyone involved.
Buyers and seller profiles: User profiles for sellers and buyers help to build trust and credibility. Both parties will feel like they're dealing with a real person, and it can help the seller build a reputable brand on the platform. You should consider adding fields like descriptions, testimonials, certifications, and photos.
Listings and searchability: How your listings will look on your service marketplace depends on the type of services your users are listing. Besides providing tools to showcase offerings, you also want to make sure it's easy for buyers to search and filter through your listings.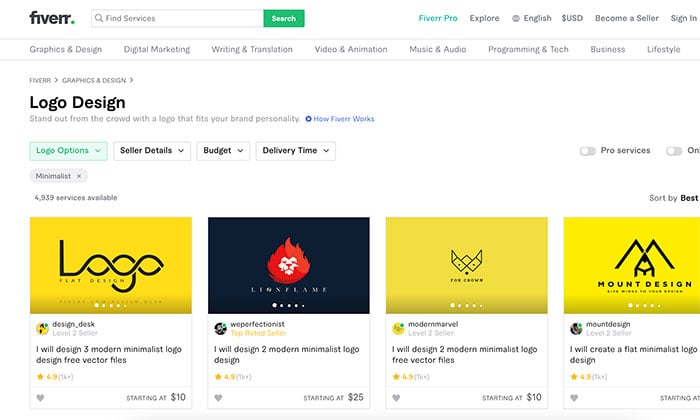 Bookings: No matter what you're selling, a solid booking management system is essential for your marketplace's success. You want to give providers the ability to control their availability and workflow. On Upwork, users can decline gigs, and on Fiverr, you turn a gig off to prevent unexpected bookings.
Payments: Another crucial factor in running a successful service marketplace is how you take payment from buyers and pay your providers. Most sites usually take a commission from each transaction and pay the seller after the deduction. If you plan to do the same, you need to set up a transaction flow to ensure the process is as seamless as possible.
Reviews: Reviews build trust and are essential to making sure everyone feels safe using your platform. As the marketplace's owner, you can use feedback to kick off any users who are harming your platform's trust.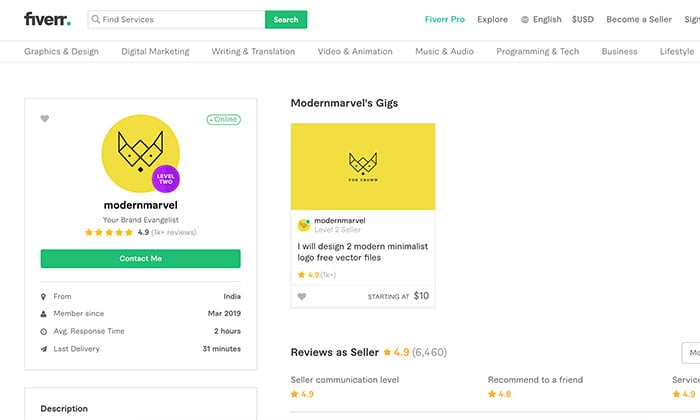 Optimize Your Service Marketplace for Local SEO (If Applicable)
Want to create a niche service marketplace for your city, region, or country? You'll need to optimize your site for local SEO.
Local SEO is similar to organic SEO, but it focuses on the geographical element and is aimed at a group of people from a specific area.
To grow their market share and start attracting users, local traffic is a top priority for anyone selling in a certain market. In fact, 46 percent of Google searches are local, which means you're potentially leaving a lot of money on the table by not optimizing for local SEO.
When creating your website, think about the search terms people in your area would use to find the services you offer. For example, "need help moving in [city]." Another thing to consider is the keywords service providers would use to find a gig, such as "freelance writing jobs in [city]."
While Google usually automatically assumes people are searching for services or products in their area, making sure your location's name is involved is essential in case someone is coming from out of town.
Create a Marketing Strategy for Your Online Service Marketplace
Below, I'm breaking down the simplest marketing considerations to think about when you want to open your online service marketplace.
What Problem Do You Solve?
You can have the best marketplace with all the bells and whistles and still not succeed if you don't have a specific problem to solve.
You need one to stand out from everyone else and make sure you're attracting the right people to your platform.
For example, the problem Upwork solves is finding reputable freelancers quickly.
Who Is Your Audience?
Your marketing strategy will flop if you haven't taken the time to understand who your target audience is. This involves determining what demographics you're targeting, including age, background, consumption habits, and more.
Google blogs in your niche, and read the comments to see what questions people ask and how they talk about their problems. Hop onto Quora and see what questions people are asking.
If you want more information, create a market research survey. Send it out to people in your network who would be a good fit. You can take it a step further and post your survey in relevant Facebook groups to get even more feedback.
How Should You Grow Your User Base?
Your next step in your marketing strategy is finding sellers and buyers to join your marketplace.
Luckily, there are quite a few ways you can do this without investing in paid search or social media advertising. You just have to know who your target audience is and where they hang out online.
Facebook and Reddit: Find relevant groups in your niche and engage with users by answering their questions. Some groups even have self-promo days, which you can use to get more eyeballs on your site.
Craigslist: Are your sellers hanging out on platforms like Craigslist already? Find them and tell them about your marketplace. This is how Airbnb initially grew its listings.
Link building: Research blogs in your niche where it would make sense for them to link back to you. Once you have a list, send out a personalized email and ask for the link.
SEO: Traffic from organic searches is free and incredibly valuable. People searching the phrases you're ranking for are leads who have the problem you're solving. Don't skimp on investing time in researching your keywords and optimizing your site for SEO.
Paid advertising: If you have the budget for paid ads, take advantage of the different platforms. Google AdWords and Facebook Ads are highly targeted and can help you get in front of the right people with minimum effort.
Examples of Service Marketplaces
Here are some of the most well-known and successful marketplaces:
Conclusion
A service marketplace can be a profitable business model if you've done your homework. Before investing in hosting plans or platforms, make sure you have a problem your marketplace can solve.
Despite the competition you'll face, if you have a solid niche and you market your platform to the right people, you can achieve the same success as the Upworks and TaskRabbits of the world.
What problem do you think a service marketplace will solve in your industry?