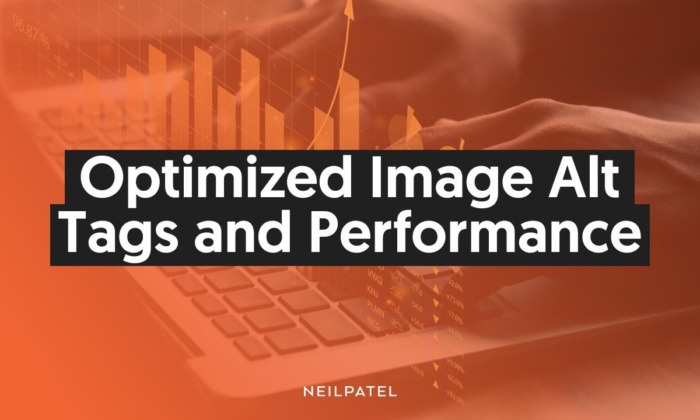 Google's algorithm involves over 200 ranking factors, but you probably already knew that.
What you might not know is how to optimize your image alt tags.
So, why is image optimization so important, and what does it have to do with Google's algorithm?
Well, my team and I did some digging and found that appropriate image alt tag optimization can boost the odds of your products ranking within the popular product listings.
Do you want better visibility on Google? It takes only a few adjustments to your current image process.
That's a small price to pay to increase traffic and leads, which leads to more revenue.
Let me show you what we found and how it might help your products' rankings.
Why Optimize Your Image Alt Tags?
Think of image alt tags as museum labels.
If the museum labels weren't next to the work of art, you wouldn't know what it's supposed to mean or who created it.
When you perform image alt tag optimization, it's like giving users a tour. As a bonus, search engines use your alt tags to help rank your site.
You can even use alt tags in social media.
To craft functional and descriptive alt text, you need to describe the image clearly yet concisely. You don't have to describe everything, but adding relevant keywords is helpful for SEO purposes. A strong alt tag carefully balances specificity, details, context, and keywords.
Did you know that more than a quarter of Google's search engine results pages (SERPs) show images? Including target keywords in your alt tags is a great opportunity to capitalize on this and gain traffic from image searches.
Why Is Image Optimization Important?
Don't just optimize your alt tags. Make sure you're optimizing your images as well.
Optimizing images improves visibility on Google, resulting in increased traffic. That's the main reason sites should optimize their photos, but there are so many other advantages as well:
Enhanced user experience (UX): Optimized photos that appear properly enhance UX by making your site easier to navigate. For example, large images can fill the full screen or cover other website elements and may need resizing for better performance and visibility.
Improved site speed: With SEO, page speed is everything. Images that are too big or poorly formatted might slow down your site, hurting your ranking and limiting accessibility for users.
Improves the accessibility of your website: In the optimization process, such as adding image alt tags, can help visitors navigate your site more easily. Web accessibility benefits not only site users but also SEO.
While image optimization may seem like an extra step in the never-ending mission to boost SEO, it has a big influence on ranking and UX.
Image Alt Tags: What Our Data Shows Us About Performance
The question we tried to answer by gathering data was this: By optimizing images for their e-commerce sites, are brands boosting their product ranking against competitors?
We typed "oversized hoodie for men" as our query and picked a top-ranking result—Carhartt. From there, we utilized Ahrefs to identify Carhartt's main competitors—Duluth Trading and Dickies—to gauge image alt text performance.
We combed the sites to understand what each brand is doing with its image optimization strategies. Next, we used Semrush to break down each brand's top-performing product pages.
Lastly, we analyzed the image alt tags on product images against the SERP result for a keyword query the product ranks for. This helped us determine if the product image would display within the popular product listing.
Let's see how Duluth Trading and Dickies performed against Carhartt:
1. Carhartt: What Can Happen Without Alt Text
After scraping about 4% of Carhartt's site, which is quite large given the size of the site, we had over 9,500 URLs to analyze. Of these URLs, we found over 1,100 images with:
Missing alt text
Missing an alt attribute
Alt text over 100 characters
Utilizing Semrush, we found Carhartt's top organically successful product page—its Detroit Jacket.
The page has an estimated traffic of 25.4K and ranks for over 200 keywords. Sitting at position 14 for a non-branded term "men's blanket lined jacket," most rankings center on the brand and "Detroit jacket."
There is no image alt text on the product image. The top product for the search "men's blanket lined jacket" does not display Carhartt's Detroit jacket in the organic images.
Brands like Amazon, Wrangler, High Country Western Wear, L.L.Bean, and Walmart appeared in the organic image results. All these have some form of alt text, even if it's unoptimized.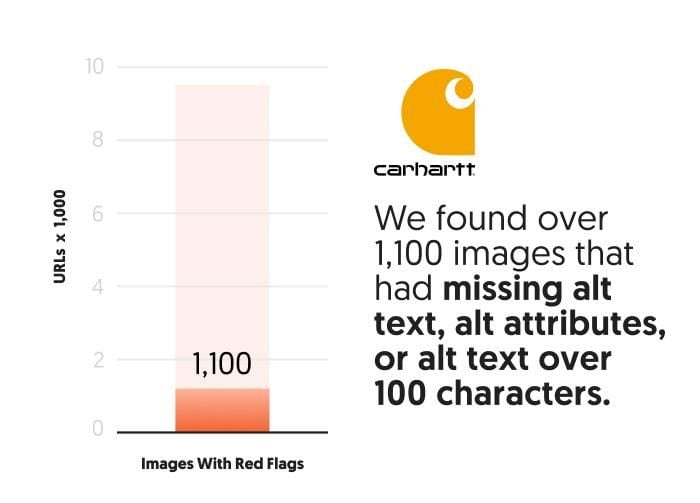 2. Duluth Trading: How Image Alt Text Impacts A Smaller Brand
Duluth is the smallest of the three e-commerce brands, so we were able to scrape the entire site.
We crawled over 18,000 URLs, with about 5,000 that had images. Of these URLs, there were fewer than 1,000 with:
Missing alt text
Missing alt attribute
Alt text over 100 characters
Using Semrush, we found Duluth's top organically successful product page—its Souped-Up Sweats cotton overalls. It has an estimated traffic of 160 and ranks for about 30 keywords. The highest monthly search volume (MSV) keyword that is non-branded is "cotton overalls"—at position 11, followed by "sweatpant overalls."
This product does have an image alt attribute, but it is not fully optimized. However, for the keyword "cotton overalls," Duluth does appear in the image pack with product information.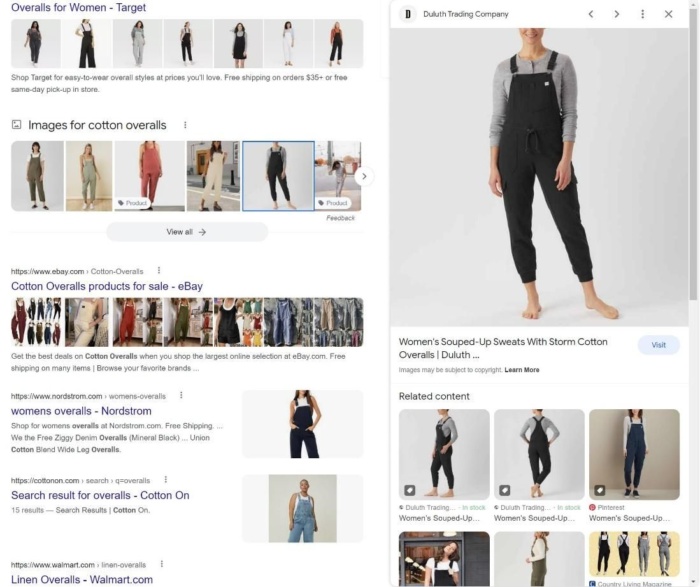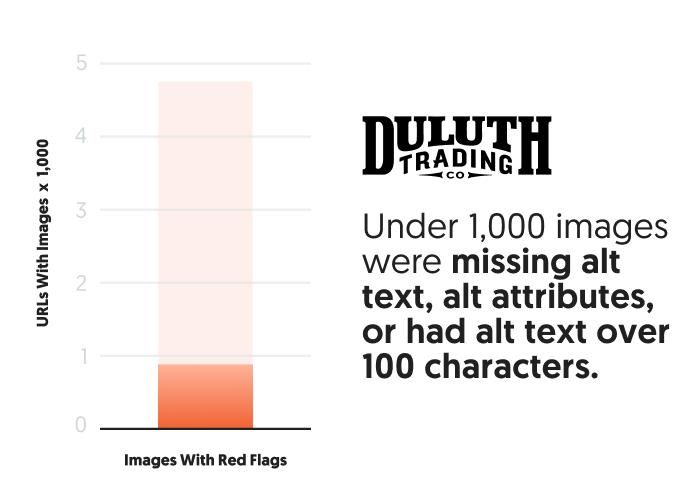 3. Dickies: Successful But Unoptimized
We were able to scrape all of the Dickies website as well, finding over 70,500 URLs. Of these URLs, there were almost 60,000 with images and fewer than 600 with:
Missing alt text
Missing alt attribute
Alt text over 100 characters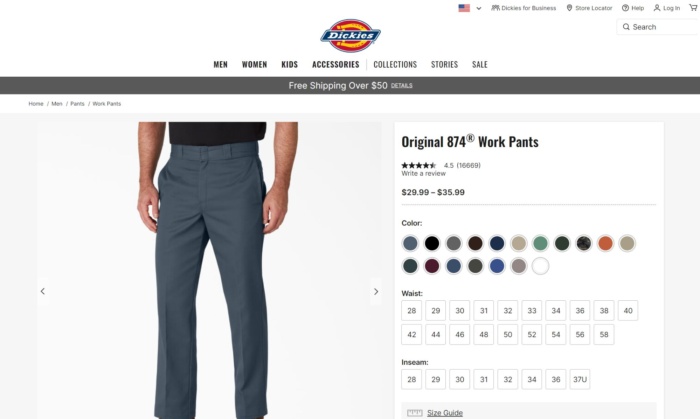 Utilizing Semrush, we found Dickies' top organically successful product page—its 874 Work Pants—has an estimated traffic of 60,000. It ranks for about 450 keywords.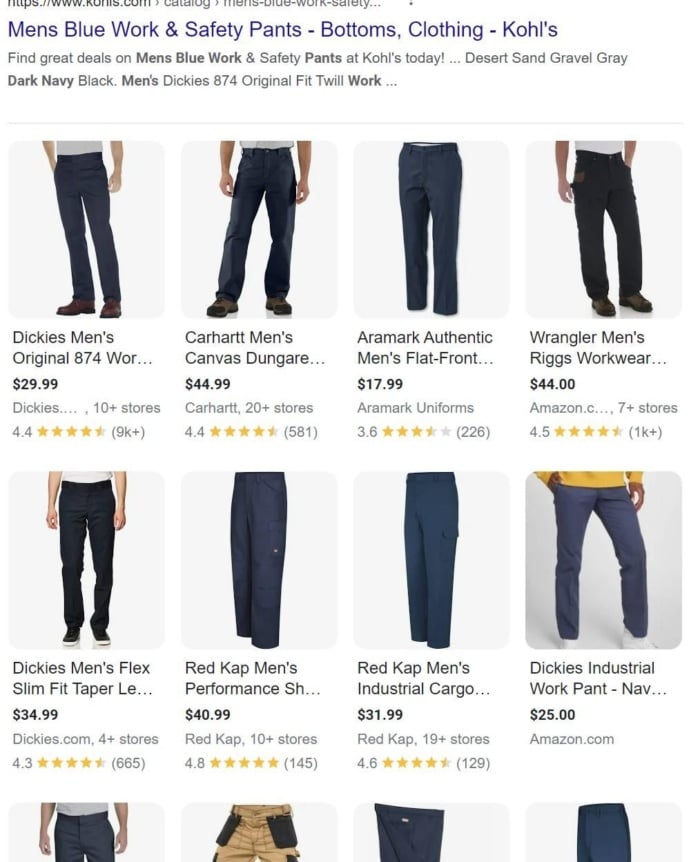 A non-branded search term that Dickies ranks well for is "navy blue mens work pants" with an MSV of 90—they rank in position 9. Using the search term "navy blue mens work pants," Dickies is the first product to display in the organic image product section.
This product page does have alt image attributes for the product image—yet it is not completely optimized.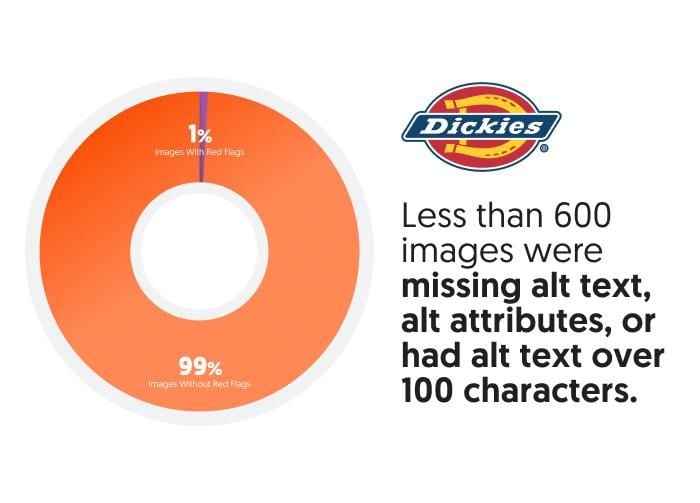 What We Learned From Our Data
Not all e-commerce businesses are taking advantage of image alt tag optimization.
Adjusting their SEO strategies to bridge this gap could help them rank better organically.
Products with any type of alt image attribute attached to product images ranked in the organic product images section within the SERPs.
Carhartt didn't have alt text on its product image and didn't rank organically in the popular product listing section. In contrast, the other two brands did have some image alt tag optimization and ranked—leaving a positive impact on their overall traffic performance and revenue.
So, ultimately, appropriately optimized image alt text for your product images can help the odds of your product ranking, especially within the popular product listings.
How to Optimize Image Alt Tags
If you want to do image alt tags right, be descriptive yet concise.
Think of it like this: Someone is looking for an item and can't find it, but you know exactly where it is without looking and they've called you to help.
The conversation usually goes something like: "It's in the drawer to the left of the refrigerator in between the scissors and the tape dispenser."
You'd be able to picture that exactly. That's what you want with your alt text—a description someone could easily envision.
As far as length, your description shouldn't be too short, but not too long, either. Keep it to fewer than 125 characters. In this case, a picture is not worth a thousand words when assistive technologies can only process 125-character chunks.
Including relevant keywords in your alt text, just as you would with your meta tags, helps boost SEO.
Be direct! That means leaving out phrases like "image of …" but including text mentioned in the image.
The more specific you sound, the better. You don't want spammy alt text.
Here's what I mean by descriptive vs. spammy alt text using Away's The Everywhere Bag as an example: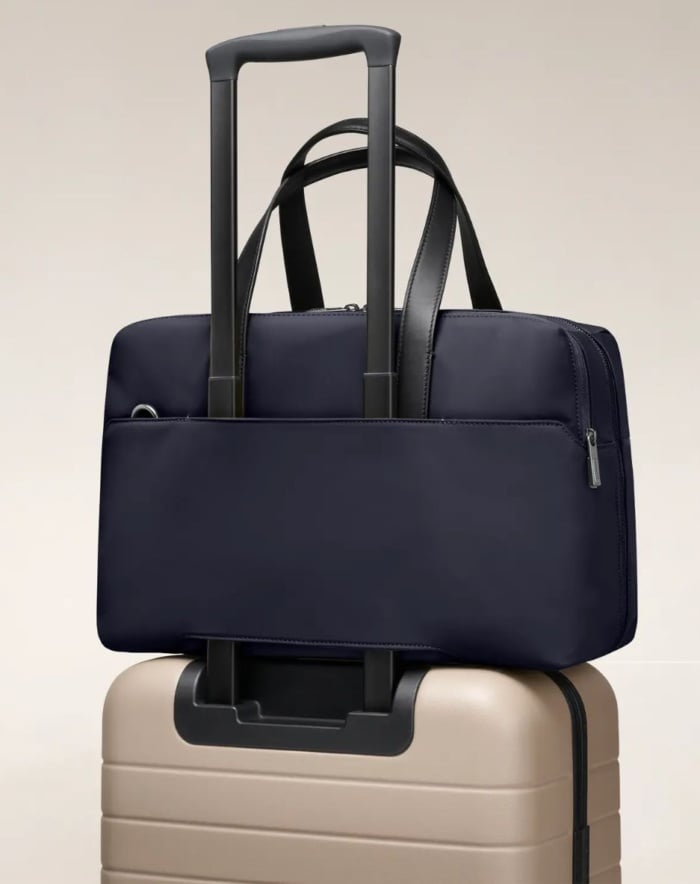 The descriptive way: Luggage sleeve for a navy duffel bag strapped to a sand-colored suitcase with a raised telescopic handle.
The spammy way: Luggage duffle bag navy bag duffel bag with luggage sleeve.
You simply want to describe the image details. It needs to read naturally—not as if you're trying to cram a bunch of related keywords together.
Image alt tag optimization can help Google read the context of your images, but "keyword stuffing" leads to a poor user experience. Even Google will know your page contains spam.
So, follow image SEO best practices and do alt tags the right way.
Frequently Asked Questions
What is image alt text?
Image alt text is the copy visible to users on a web page if an image fails to load on the user's screen. This text also aids screen-reading technology with describing images to sight-challenged readers and helps search engines crawl and rank your page more effectively.
How will optimizing my image alt text help my site perform better?
Image alt text is crucial for your site's accessibility, user experience, and image traffic. By including image alt text, you provide visitors and search engines with a textual description of what's pictured. Also, the keywords you use increase your chances of ranking in image search.
How can I create a scalable solution for optimizing image alt text?
Remember the 125-character rule and simply describe the image. Being specific is key, jumping straight into the image's description while using keywords cohesively. If you read your description and can't imagine the image almost exactly, rewrite your alt text until you do. There are also alt text generator tools out there to help streamline the process.
This takes a different spin for massive e-commerce sites. In that case, it's best to focus on the top-priority products first, slowly making your way down the list. At that point, it's also a good idea to implement a strategy where before the product page(s) are live for new releases, you automatically include that image alt text.
Conclusion
The smallest details go a long way for your SEO strategy and site ranking. One detail you don't want to overlook is image alt tag optimization.
Thankfully, Google offers a lot of information on how to optimize our sites and images. ;
It's something brands should consider when trying to outrank their competitors.
As you saw from our data, Duluth Trading and Dickies have put in some effort with alt tags, where Carhartt did not.
Just imagine how much sharper they'd be if they implemented image alt tags across the board.
Ignoring image alt tags will cost you.
Images bring value to users on your site and those searching for what you have to offer. Image alt tags take those images to another level by increasing your site's SEO performance, UX value, and accessibility. A win-win-win.
Taking the time to optimize your site's photos can have a significant impact on traffic.
So, take the time to get it right.
Have you optimized your website's images? What effect did it have on your traffic?